From August 2019 through November 2019, I explored campus anxiety for Prof. Rudolph's Advanced Product Development course. I proposed "Koa": a wearable ring and connected app that uses biometric technology and machine learning to promote resiliency and social connection, supporting diverse stress and anxiety management.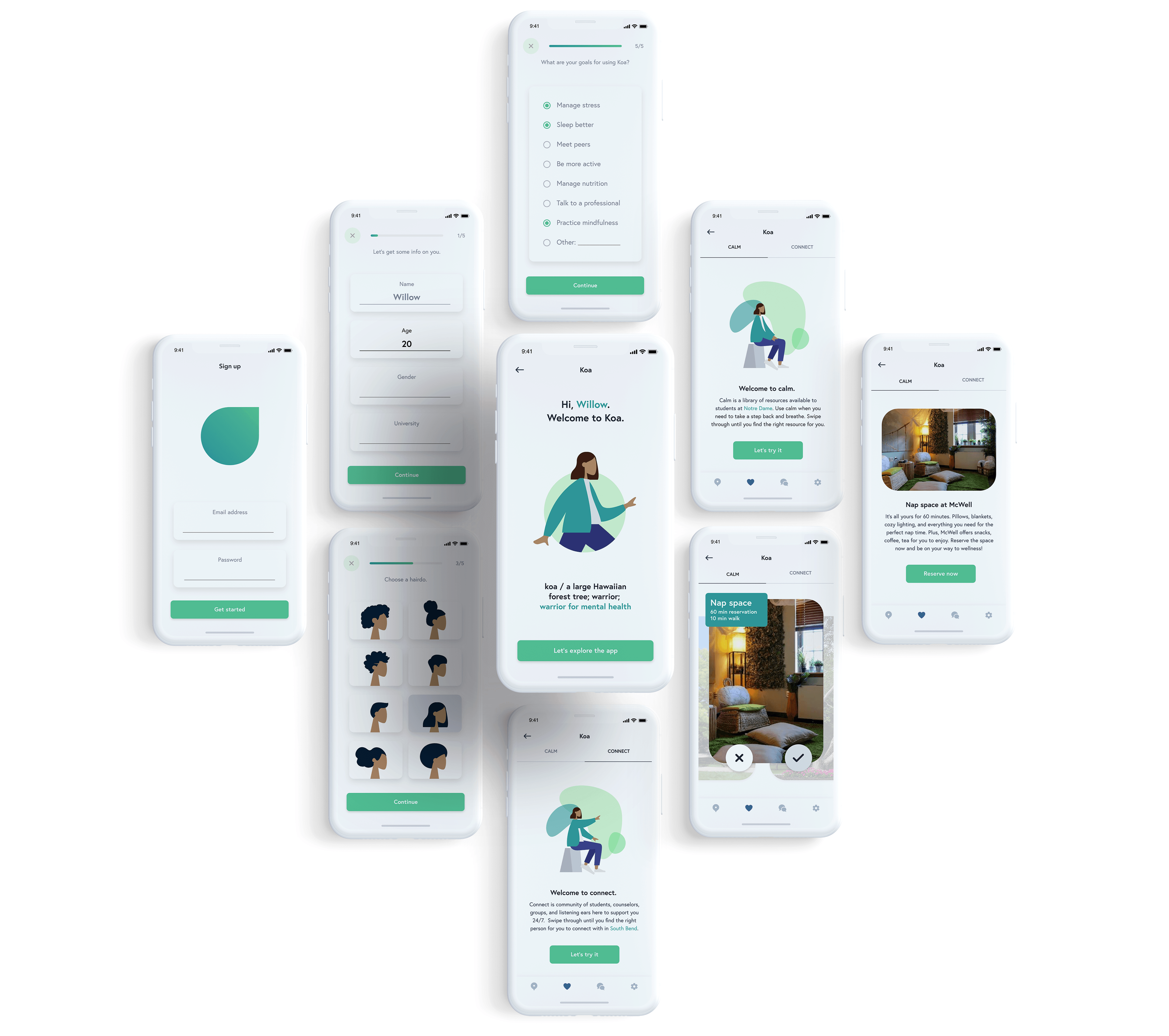 Anxiety is an elephant sitting on your chest
The American College Health Association
surveyed
19,684 undergraduate students in 2018. They found 3/5 students have experienced debilitating anxiety for at least two weeks during college, while only 1/5 have sought help for that anxiety. 
Through my close friends' personal experiences with anxiety, my chosen study of design, my commitment to the social good, ongoing conversations with specialists, and community-focused user research, I am in a unique position to design with an underserved population.
How might we break barriers inhibiting anxiety care?
My design objective was to help others cope with day-to-day stressful situations. I focused my efforts on creating a product compatible with students' daily living that helps them
understand when stress turns into chronic anxiety (plus when and how to get help).
Who has skin in the game?
I performed qualitative research and learned friends, family, professors, administration, and health services all have power in either instigating or mitigating student anxiety.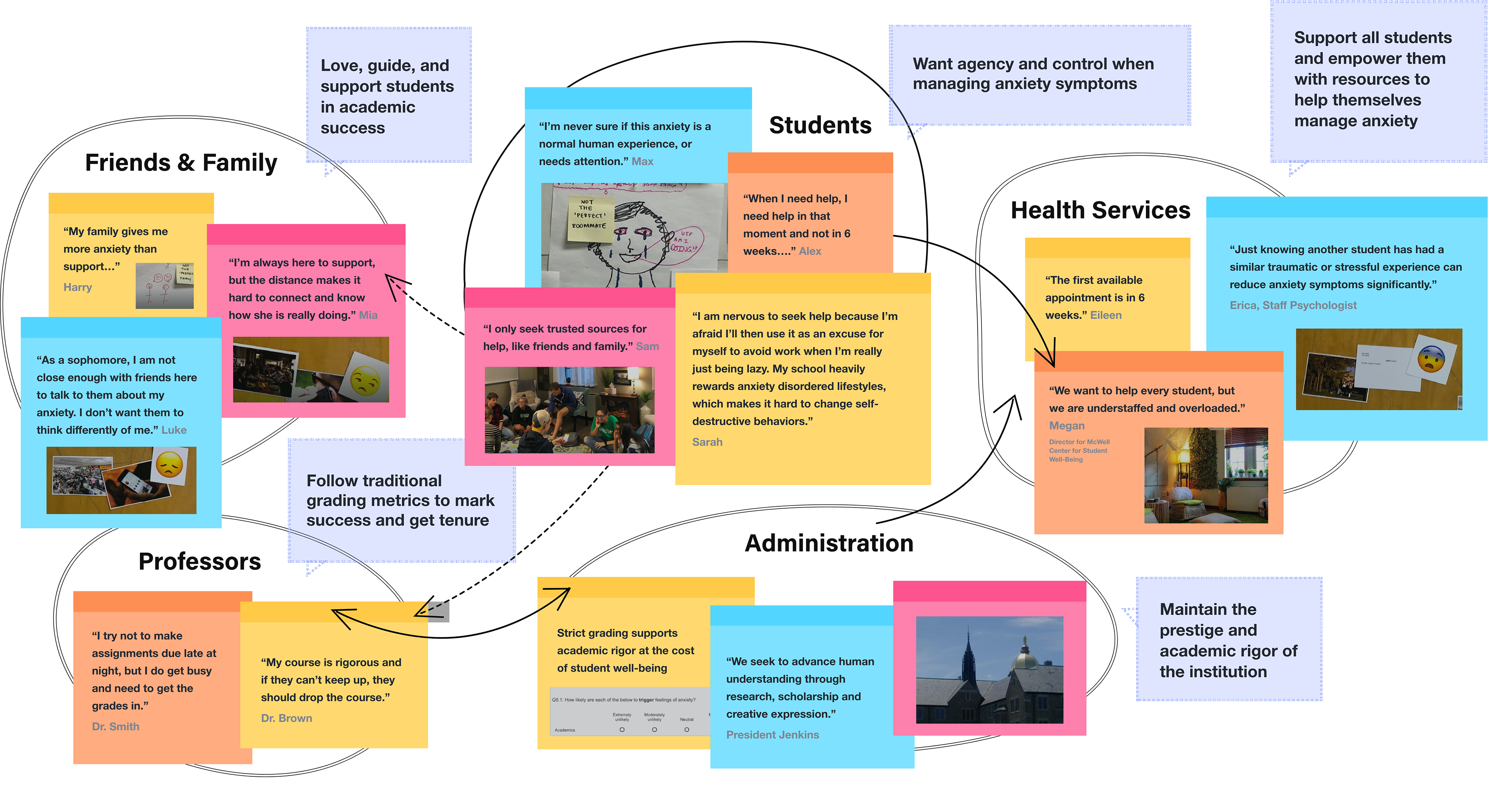 "I feel anxious about getting help for my anxiety."
I performed six primary research methods (card sort, expert interviews, student interviews, classroom observation, survey, drawing game) and two secondary research methods (literature review, heuristic evaluation) to understand anxiety on campus.
✓  
Students want agency—a feeling of control over actions and their consequences—when managing their anxiety and don't want to feel restricted when finding help.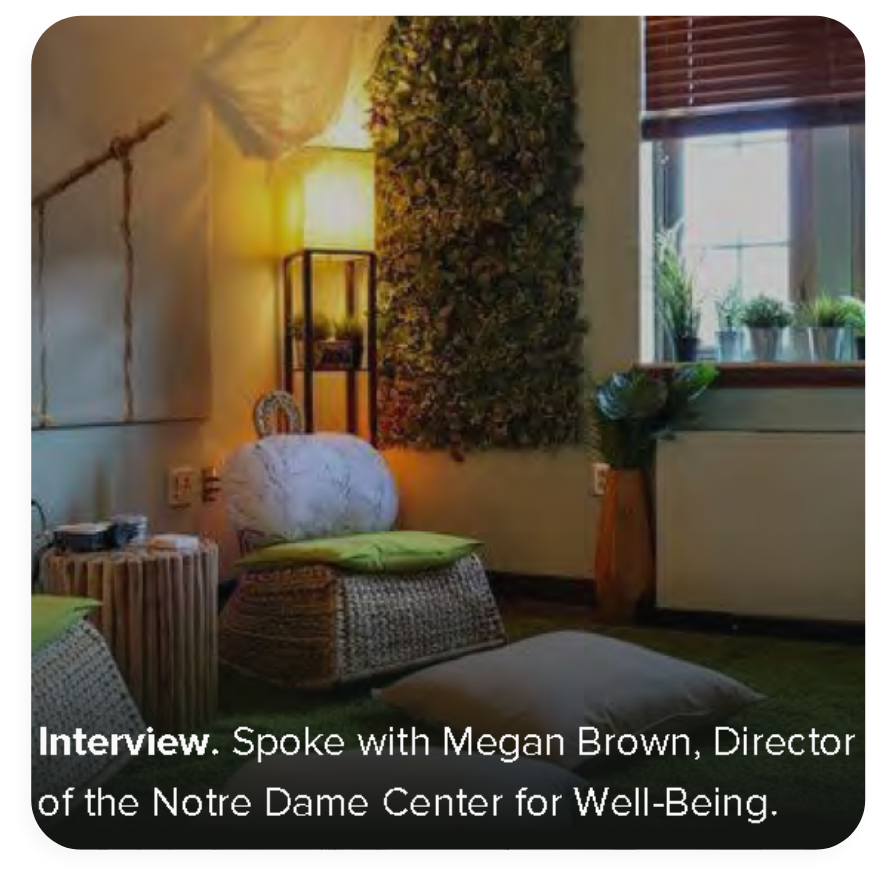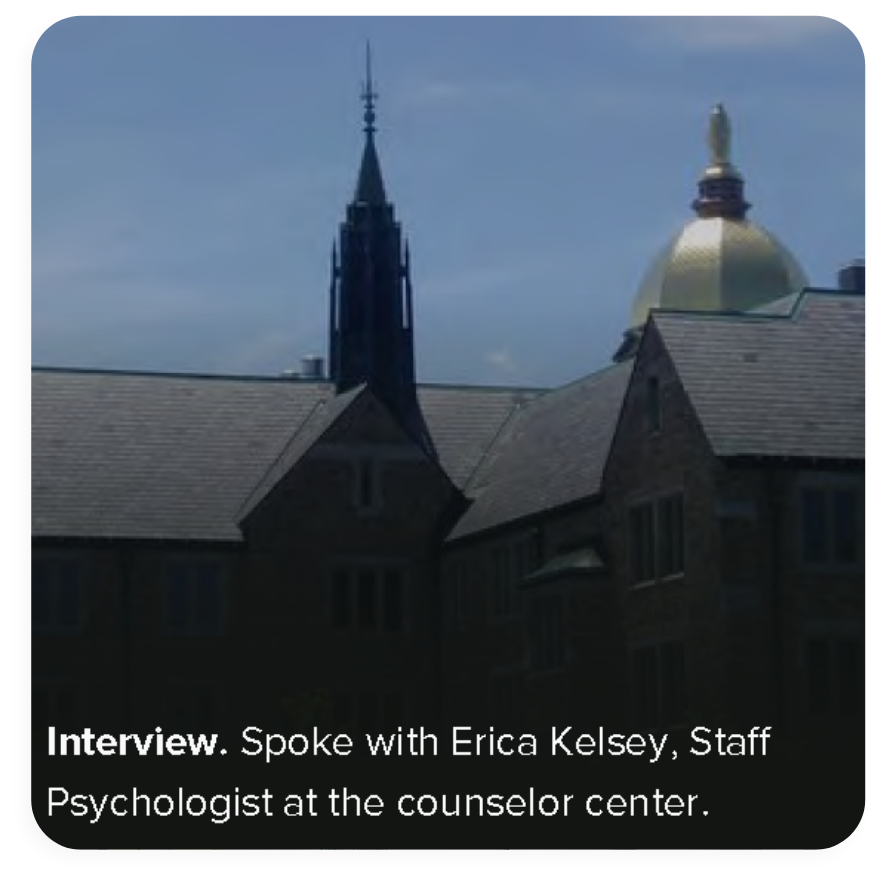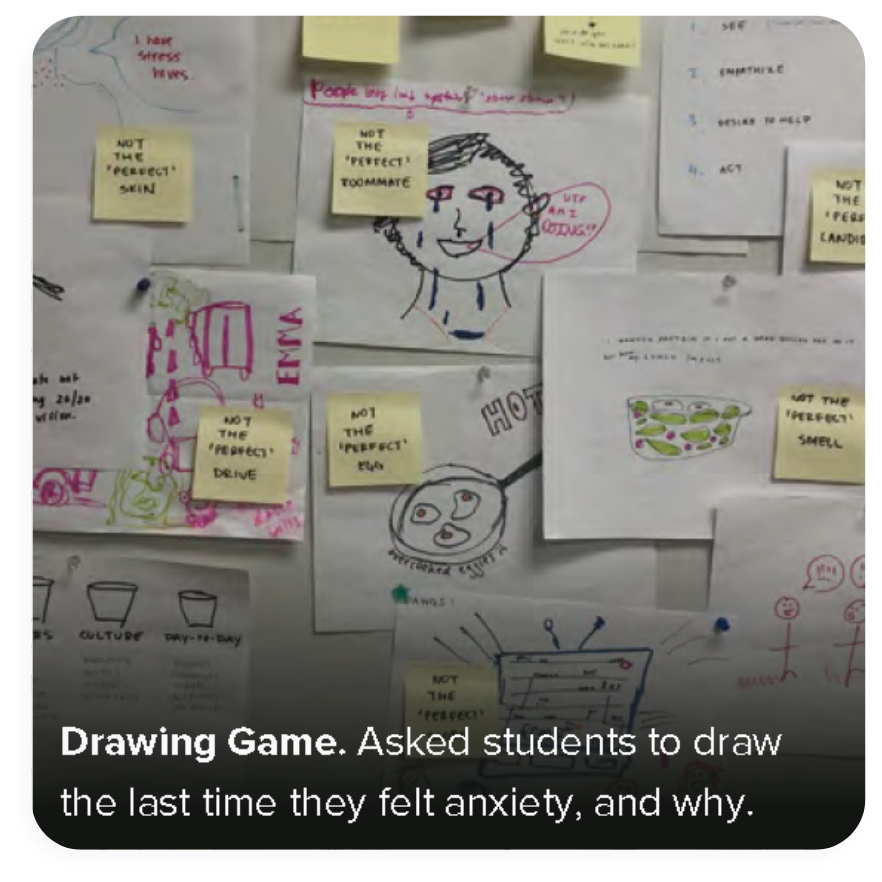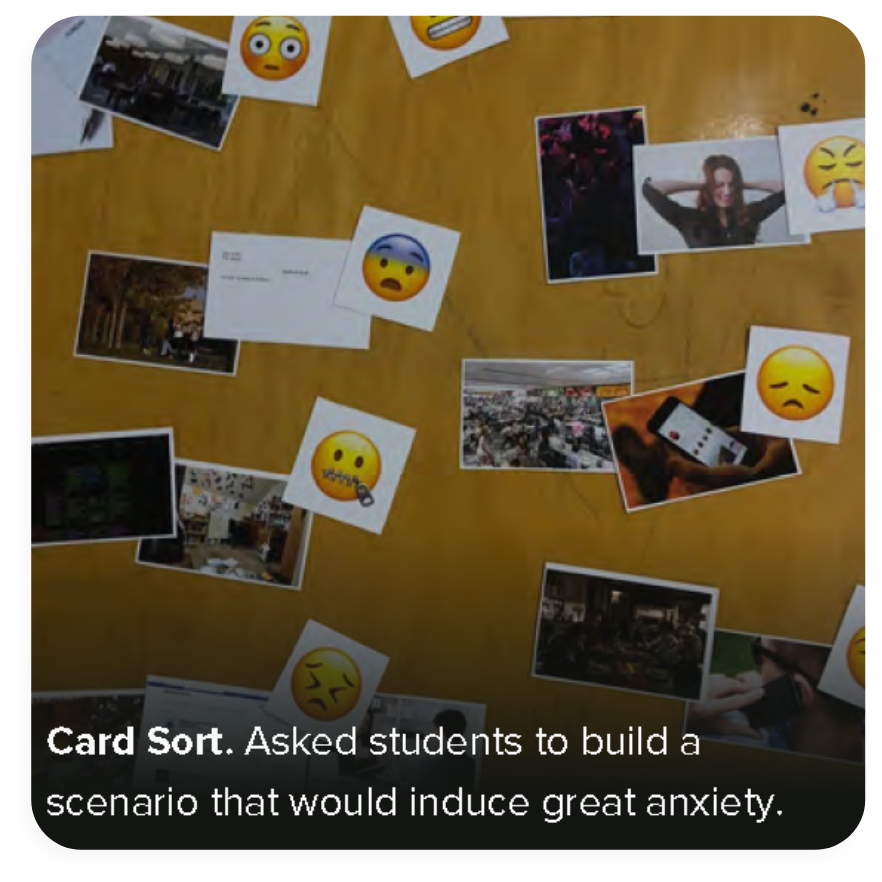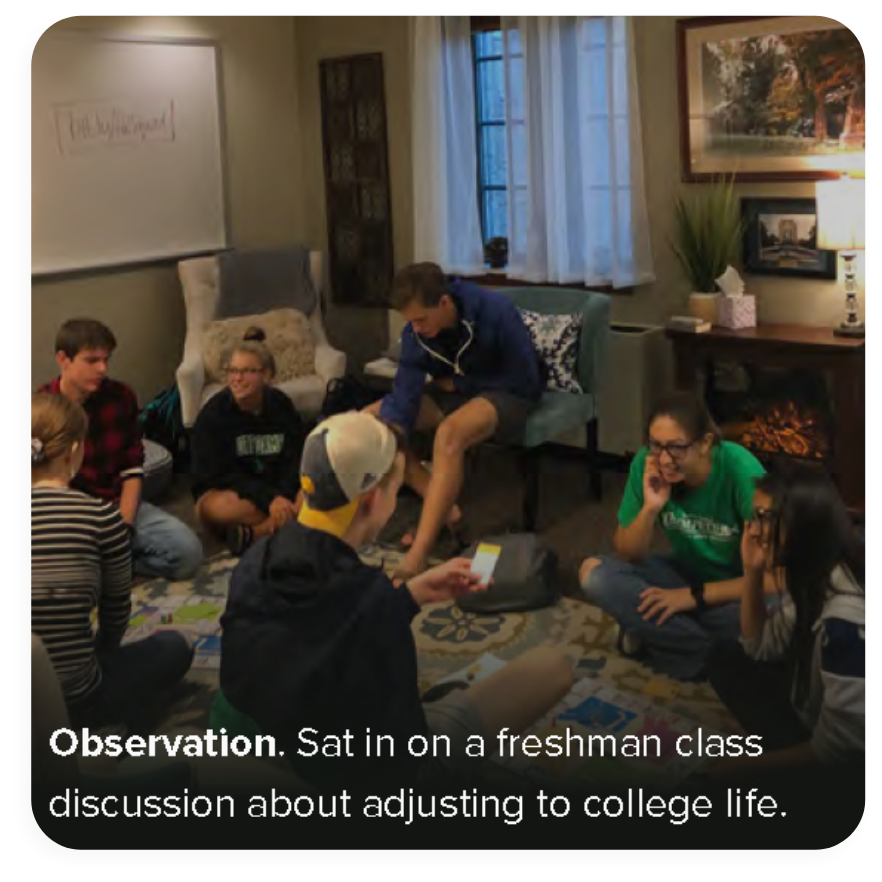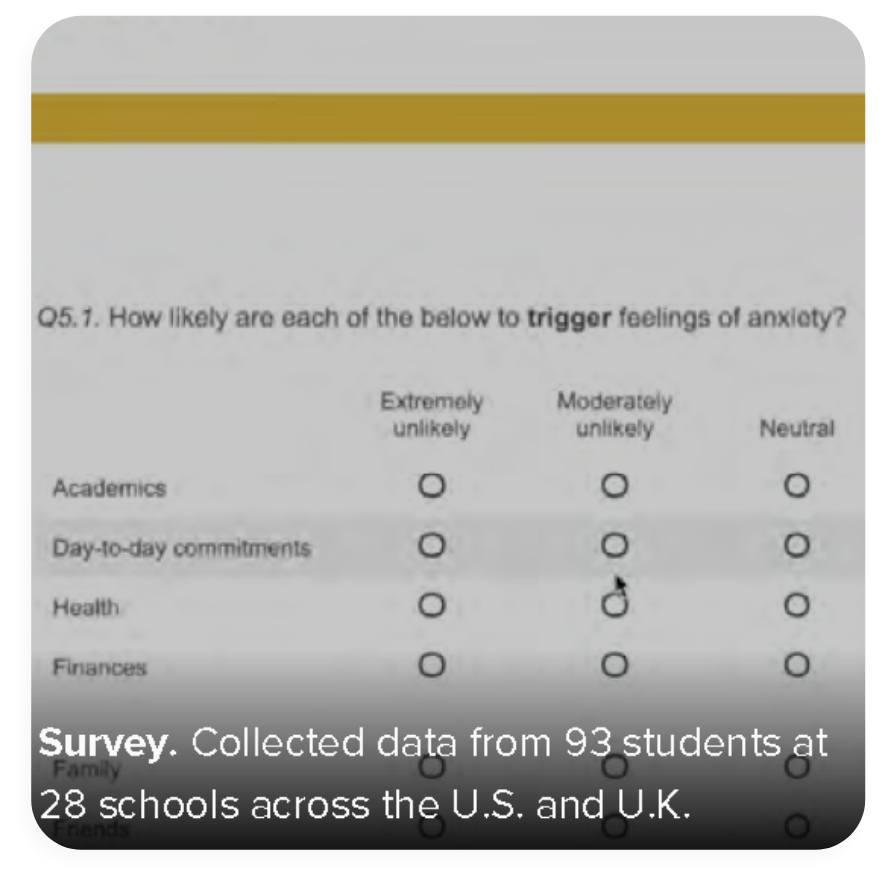 Discrete, intuitive, enduring
✓ 
Discretely nudge students to access mental health resources when stressed
✓ 
Intuitively share biofeedback so students can recognize anxiety
✓ 

Pro
m
ote resilience
with
enduring options for care, any time of day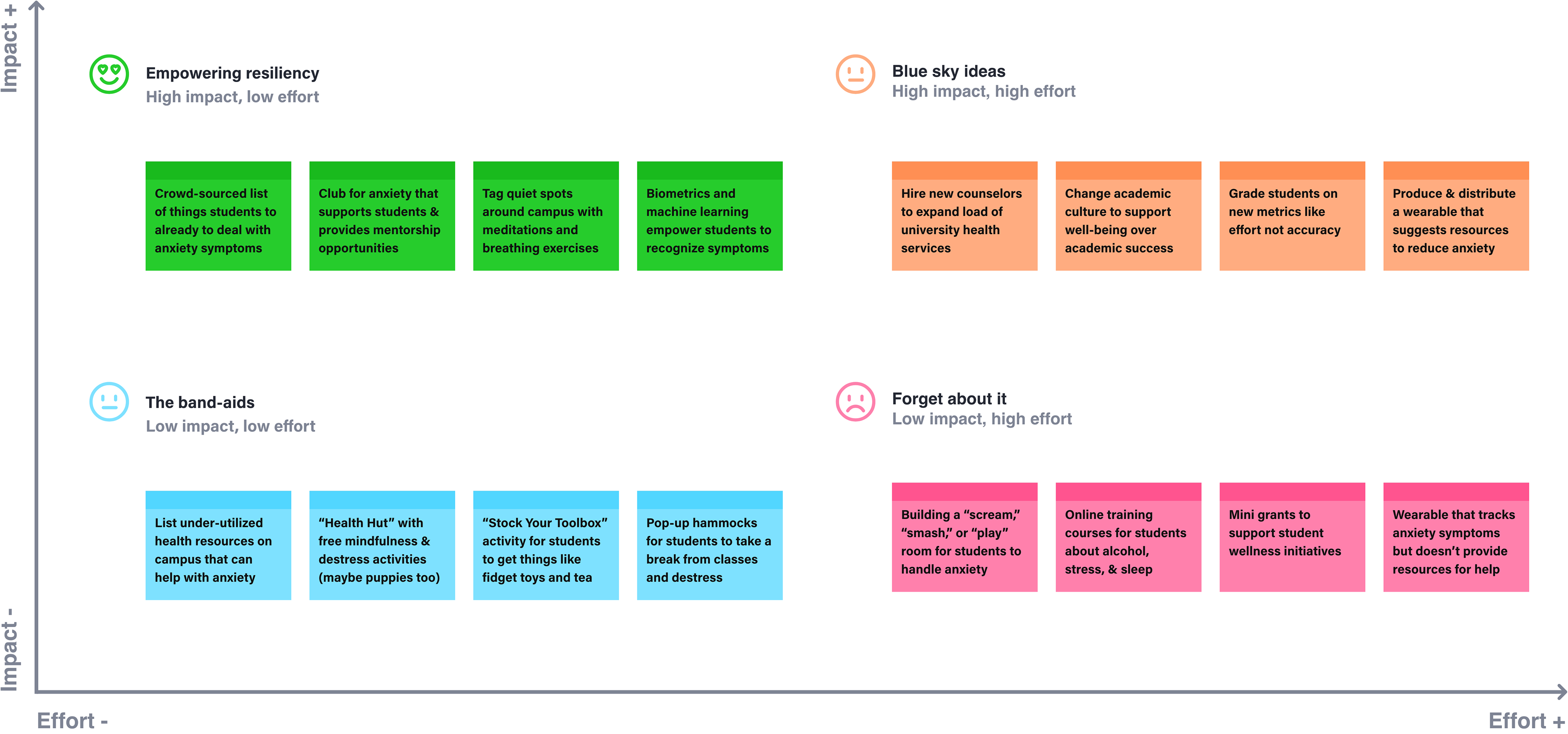 To understand how we can give students control over how they use campus resources and become agents of their anxiety management, I (and some classmates during a scenario-driven ideation session) produced hundreds of sketches—from sharpie doodles to digital illustrations.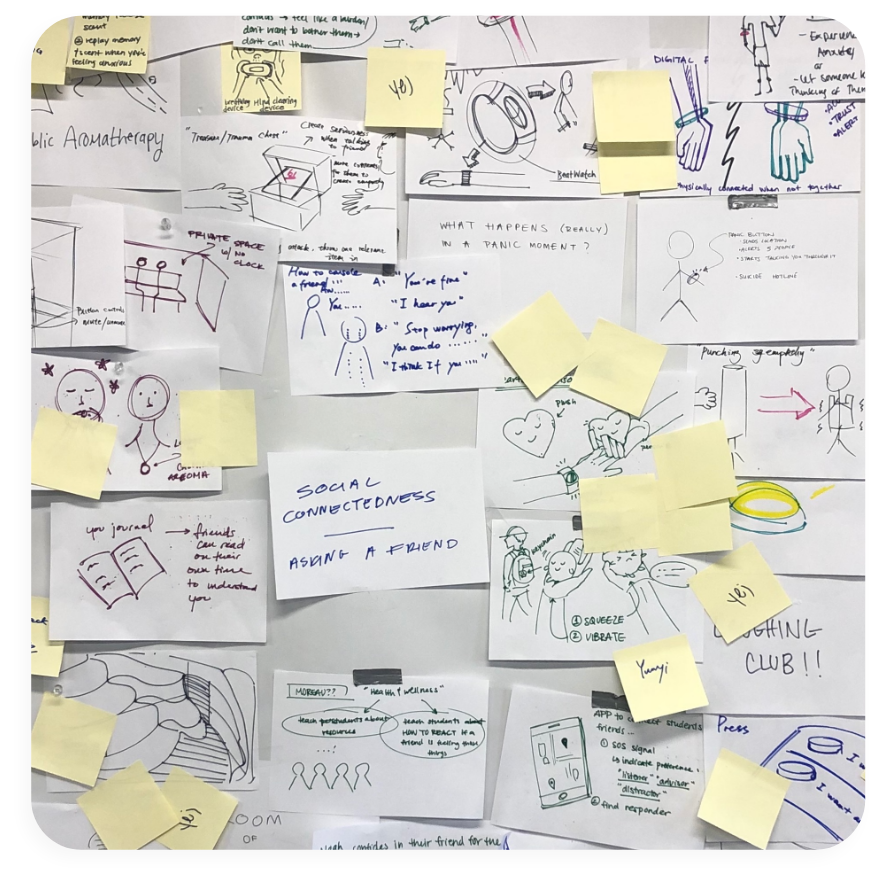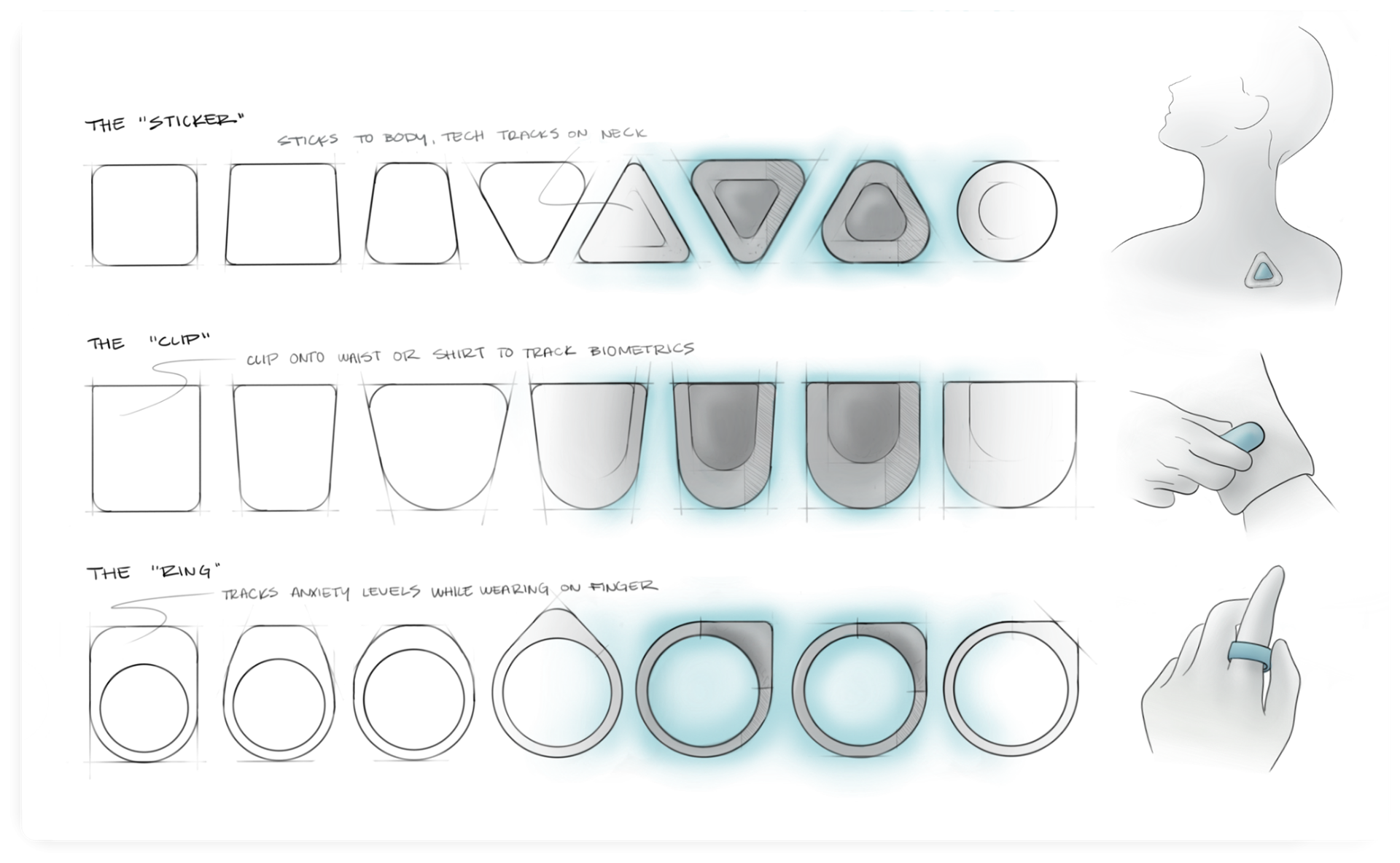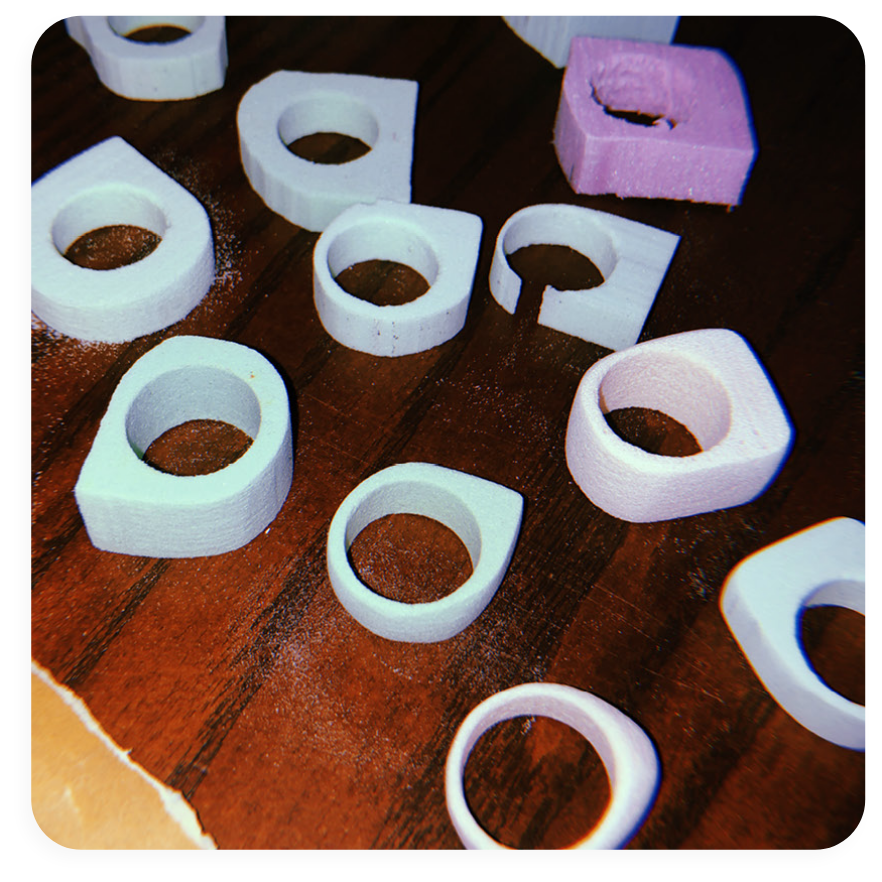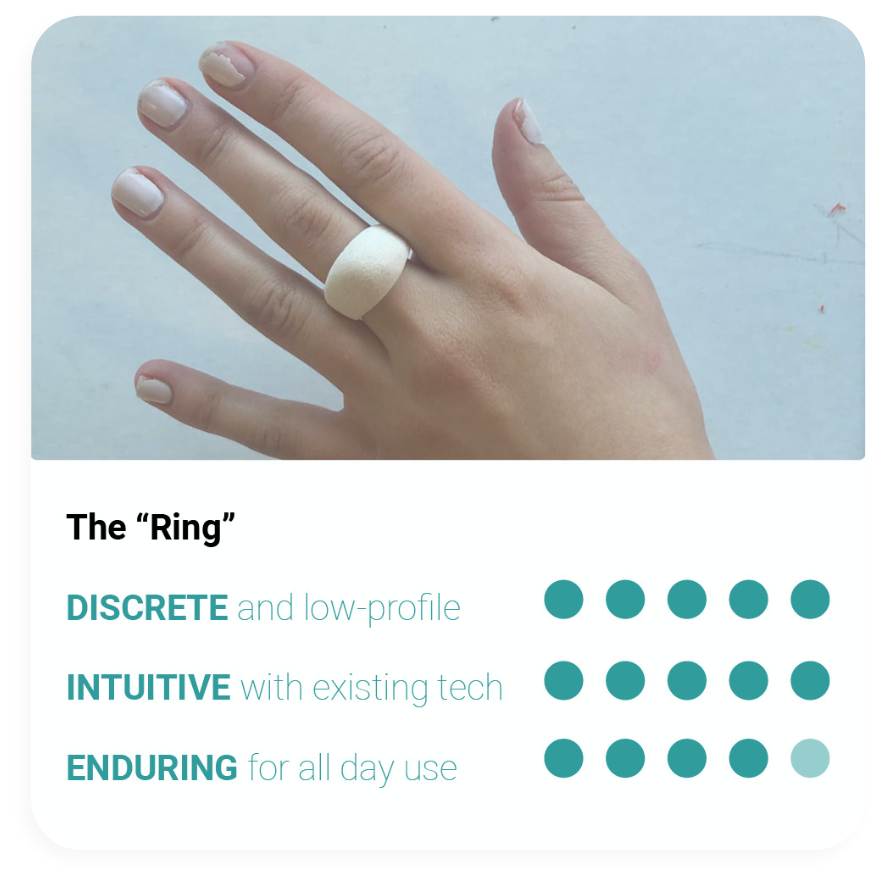 The app needed to organize various resources, from wellness and fitness classes to time in the nap pod to therapy sessions. I examined comparative apps that provide mental health care (
Headspace
,
Calm
,
Sanvello
). These apps offer resources like mindfulness exercises, meditations, 24/7 hotlines allowing users to choose what works best for them.
I wanted to provide more resources—like a mindfulness spot under that tree by the library—but how would I organize those resources? A classmate said it best: "make it like tinder." I examined comparative apps (
Tinder
,
Bumble
,
Hinge
) that aggregate data, organize it by desirability, and allow users to explore the resources with a simple swipe.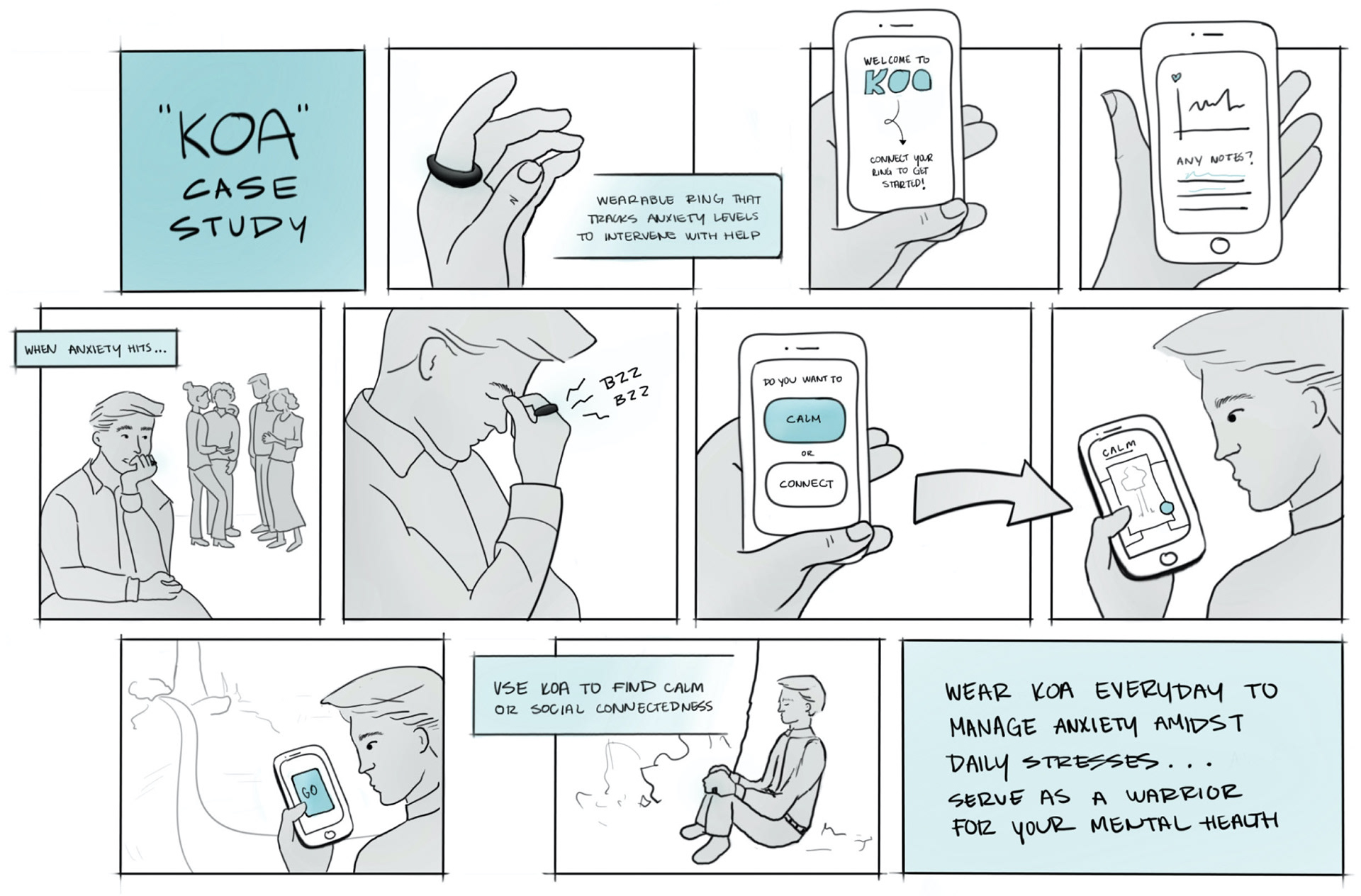 To connect students with the resources while delivering a final physical product, I capitalized on existing wearable tech. Wearable tech can track physiological symptoms of anxiety (racing heart rate, temperature changes. That data can assist students in knowing when it's time to seek help. And, when they are ready to seek help,
students can access a breadth of crowd-sourced, expert-vetted resources
.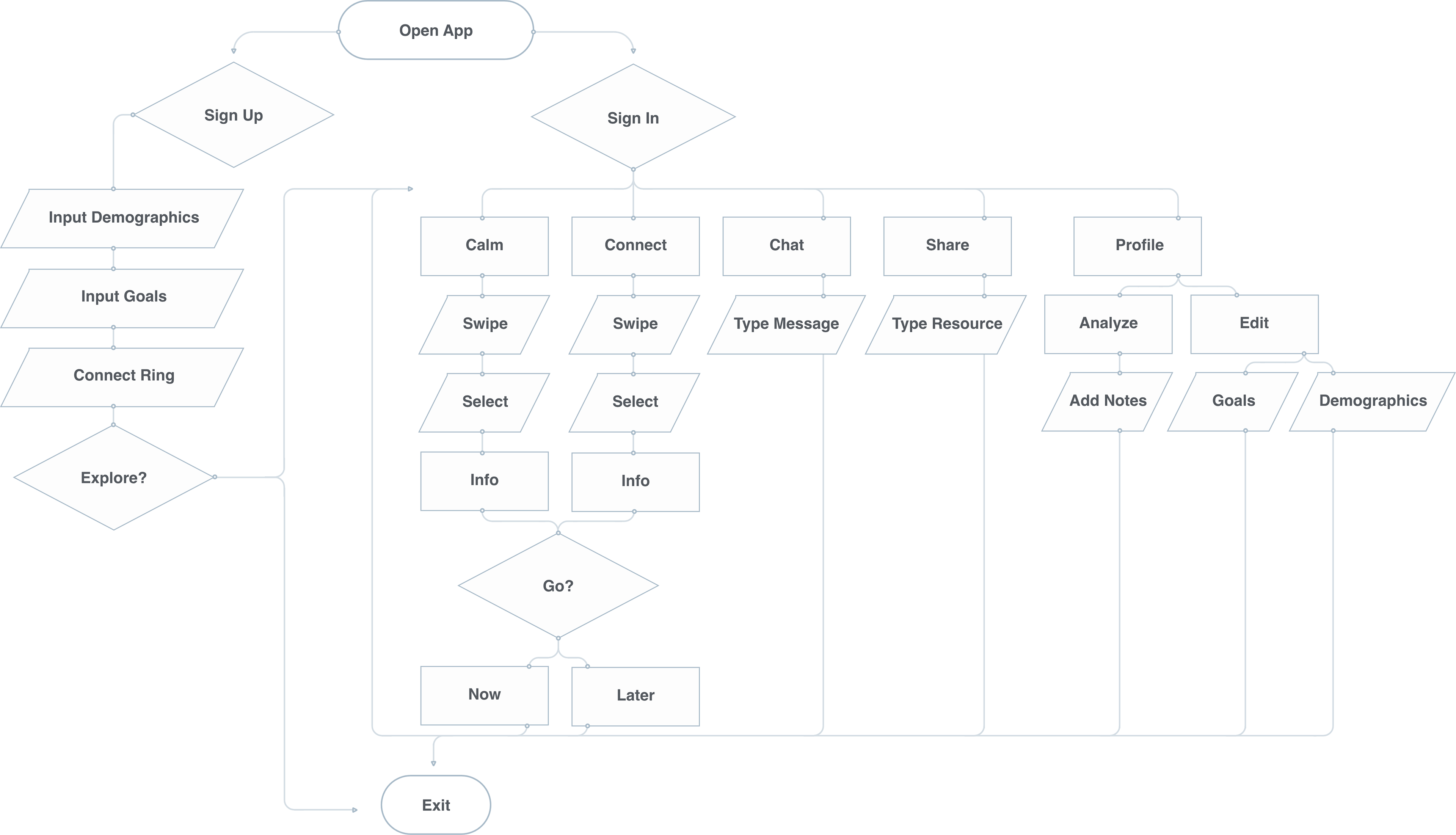 Turning scribbles into prototypes
I kept these themes in mind while sketching concepts for the app. I aimed to design a product that supported discrete, intuitive, and enduring anxiety management.
My first name for the product was "tree time." As I pushed the identity, I researched tree names and found "koa," a sizeable Hawaiian forest tree. The name koa also means brave and warrior. I designed the logo using the curves of the ring's top form.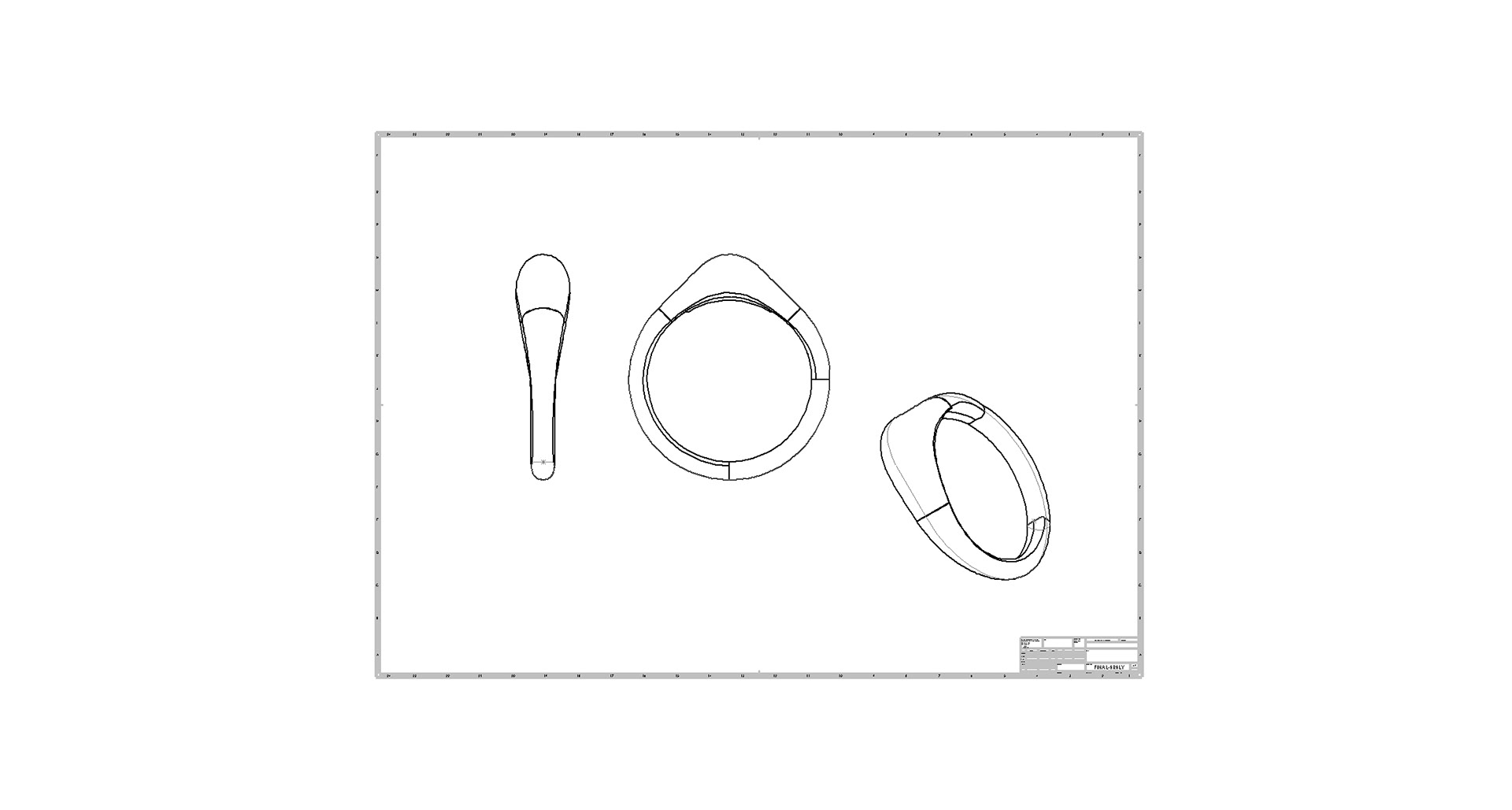 Empowering student well-being
My goal was to design a friendly experience  empowering student anxiety management
Customize your wellness journey with goals
Connect the ring via Bluetooth to monitor anxiety biometrics
Understand differences between chronic anxiety and daily stress

Resources for when you just need a moment to breathe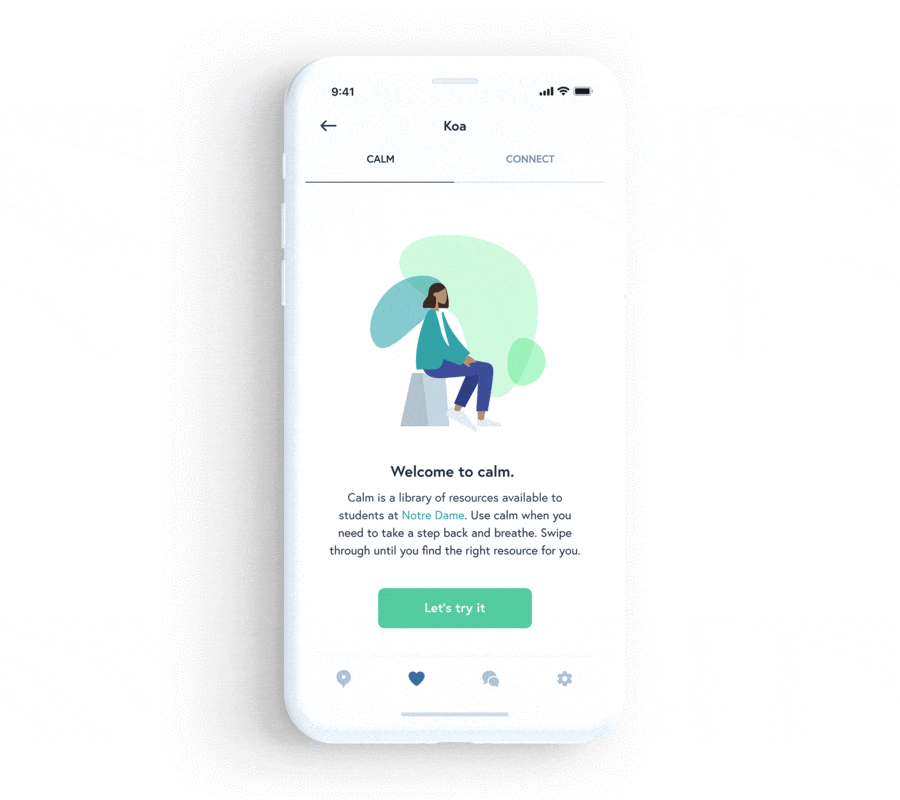 Resources that connect you with other people when you need to talk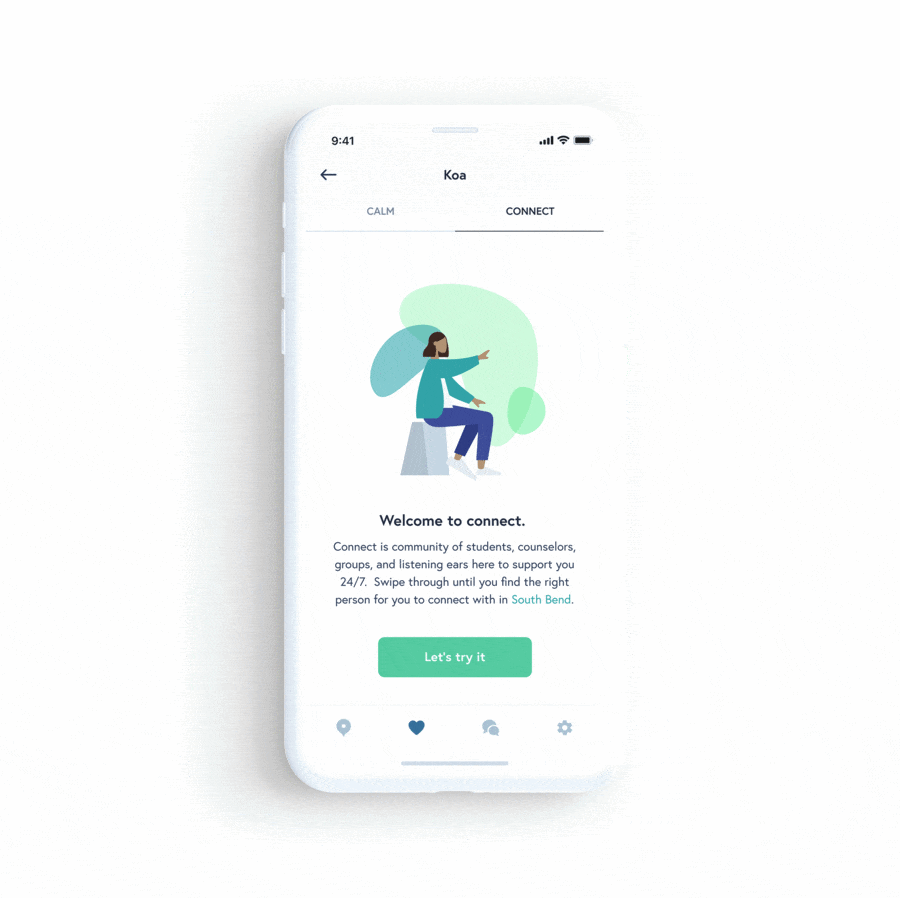 I support community building by allowing users to share their own anxiety management tools with others, after being approved by trained counselors.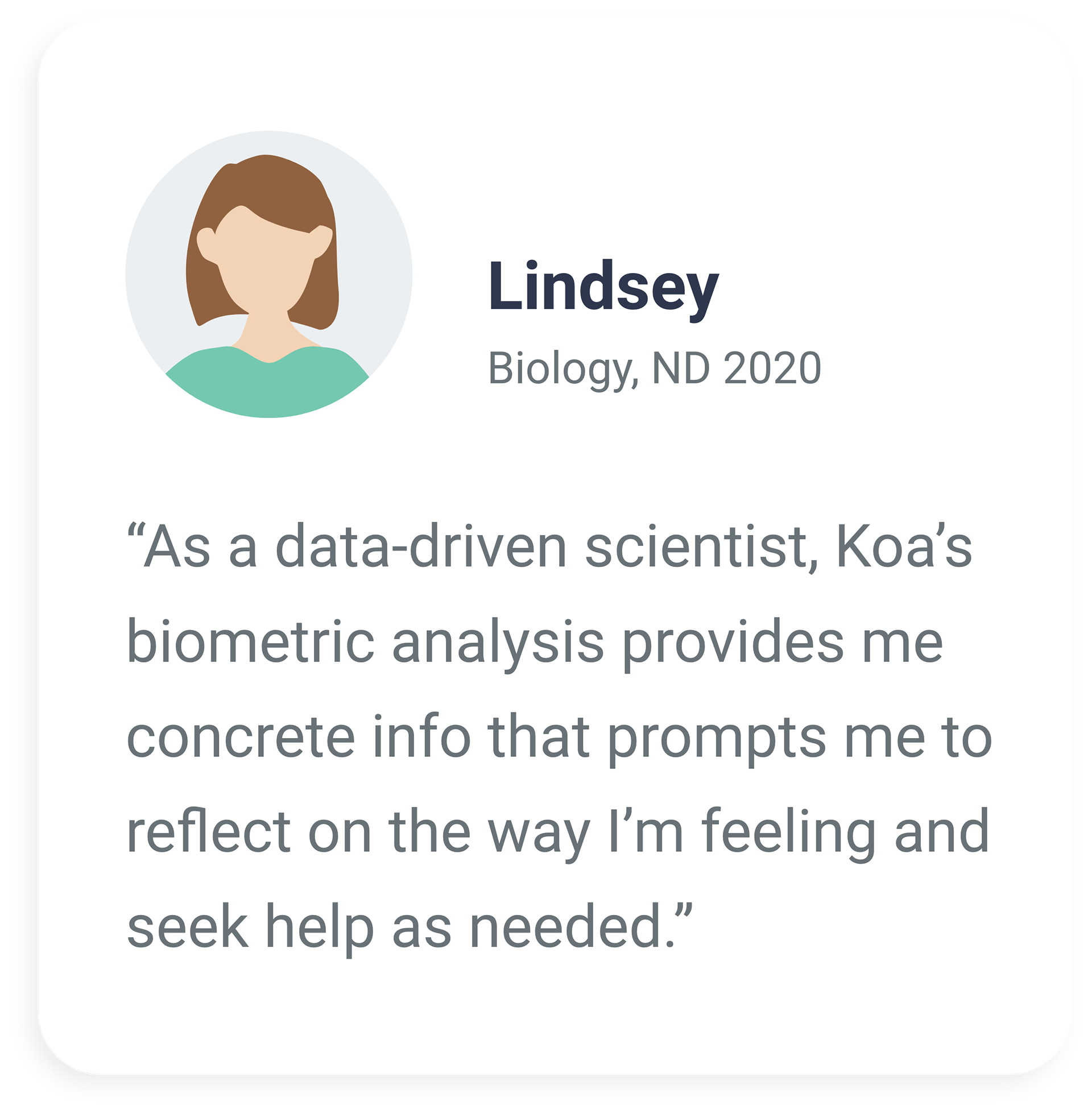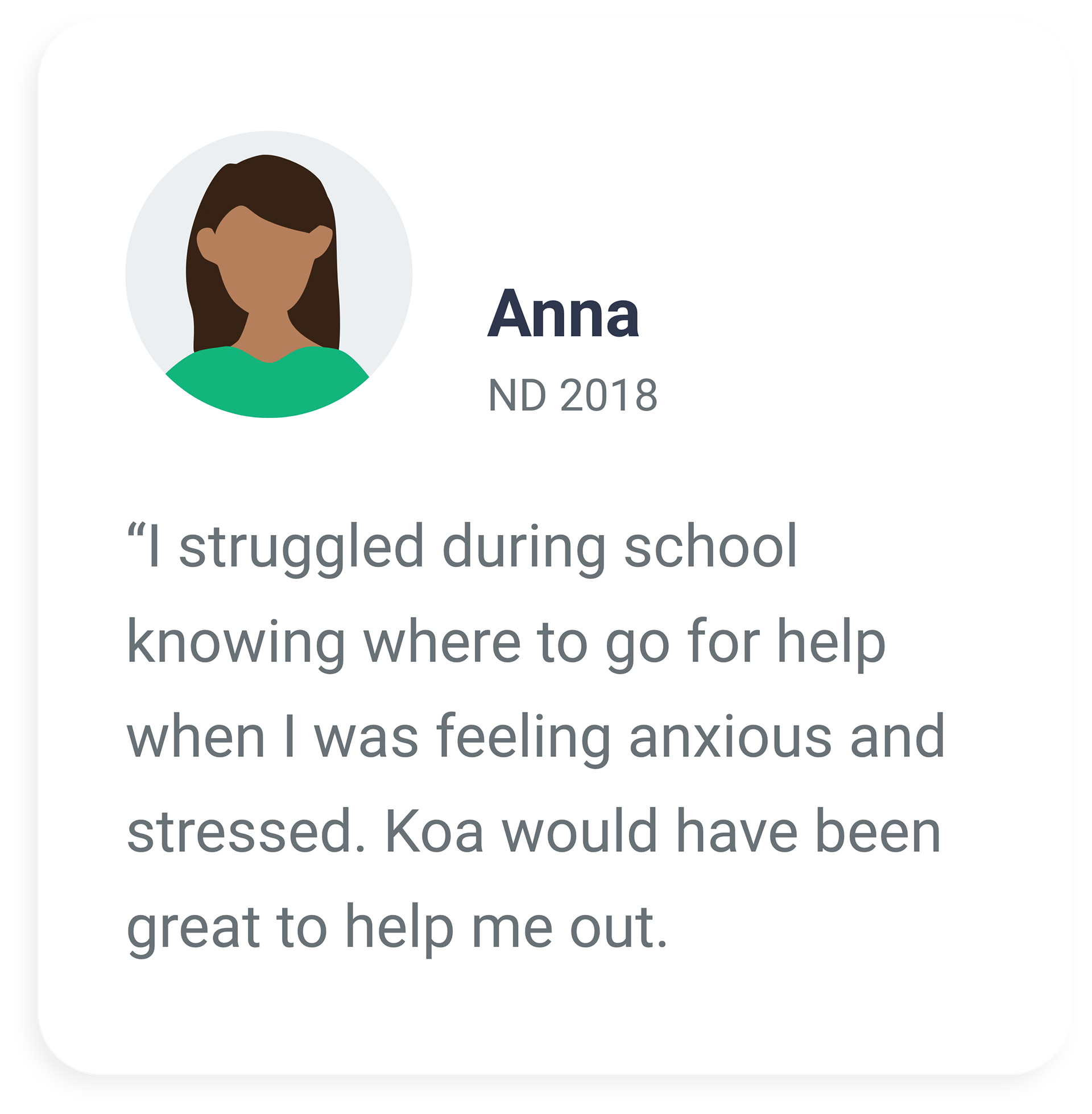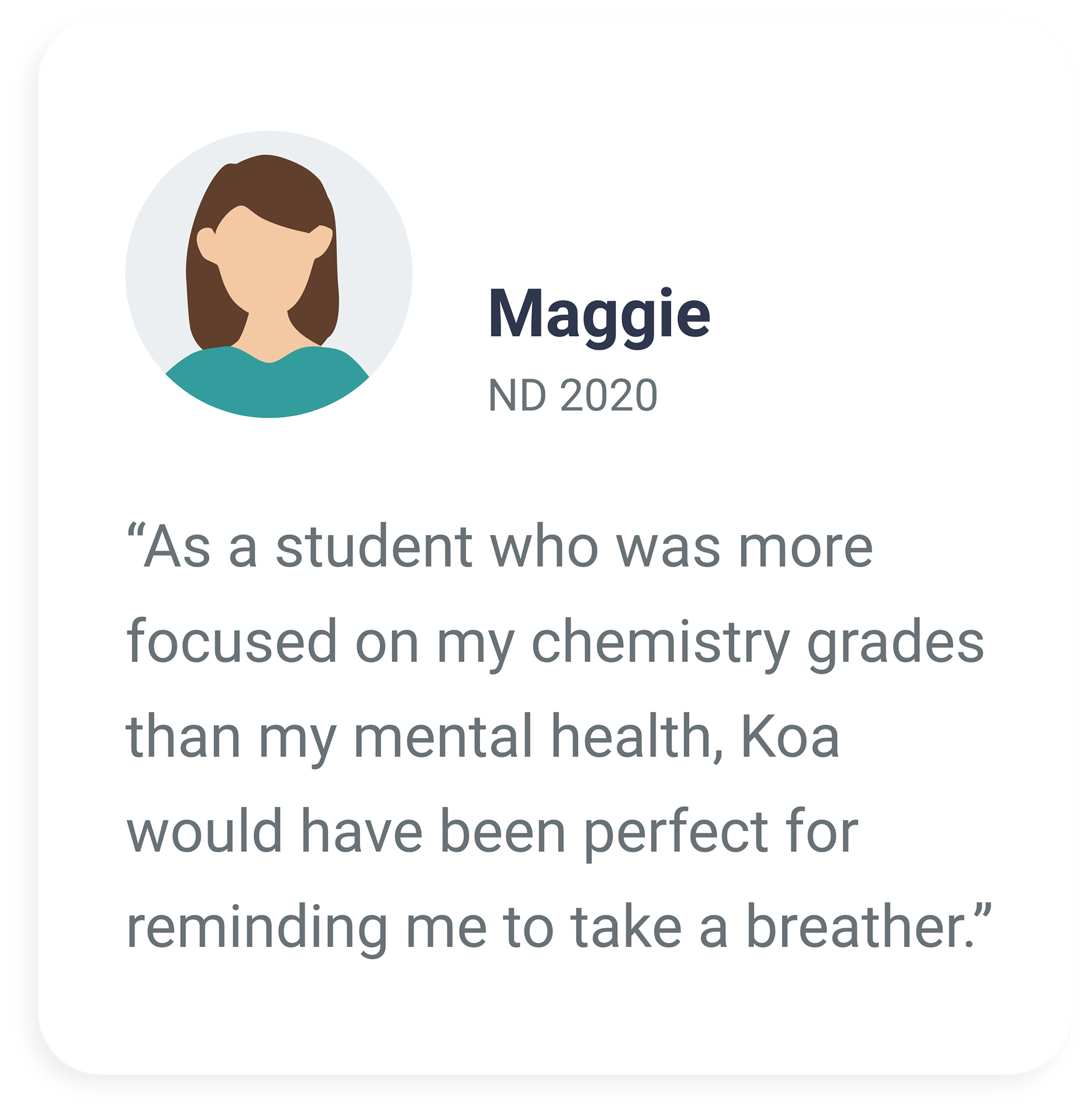 I feel empowered knowing that this product can support many students in need of quality anxiety management care. I'm excited to pursue opportunities for social design.
Claire's research and design work for Koa went well beyond the traditional and the expected. By capturing in-depth user insights and needs through a multitude of creative research methodologies, Claire was able to define an inspiring and thoughtful product solution that brings real value to those in need. My only hope is that Claire continues to work on this project so that it becomes a reality. 
✎ 
Jim Rudolph, Industrial Design Professor
Feedback on the design? Want to talk about designing for impact? Say hi on
LinkedIn
.