In Aug. 2019, I joined Univ. of Notre Dame's 
School Stories Lab
 as lead product designer. I launched a website unveiling 
Dr. Susan D. Blum
's anthropology research (on learning vs. schooling) and simultaneously allowing students to share their real school stories.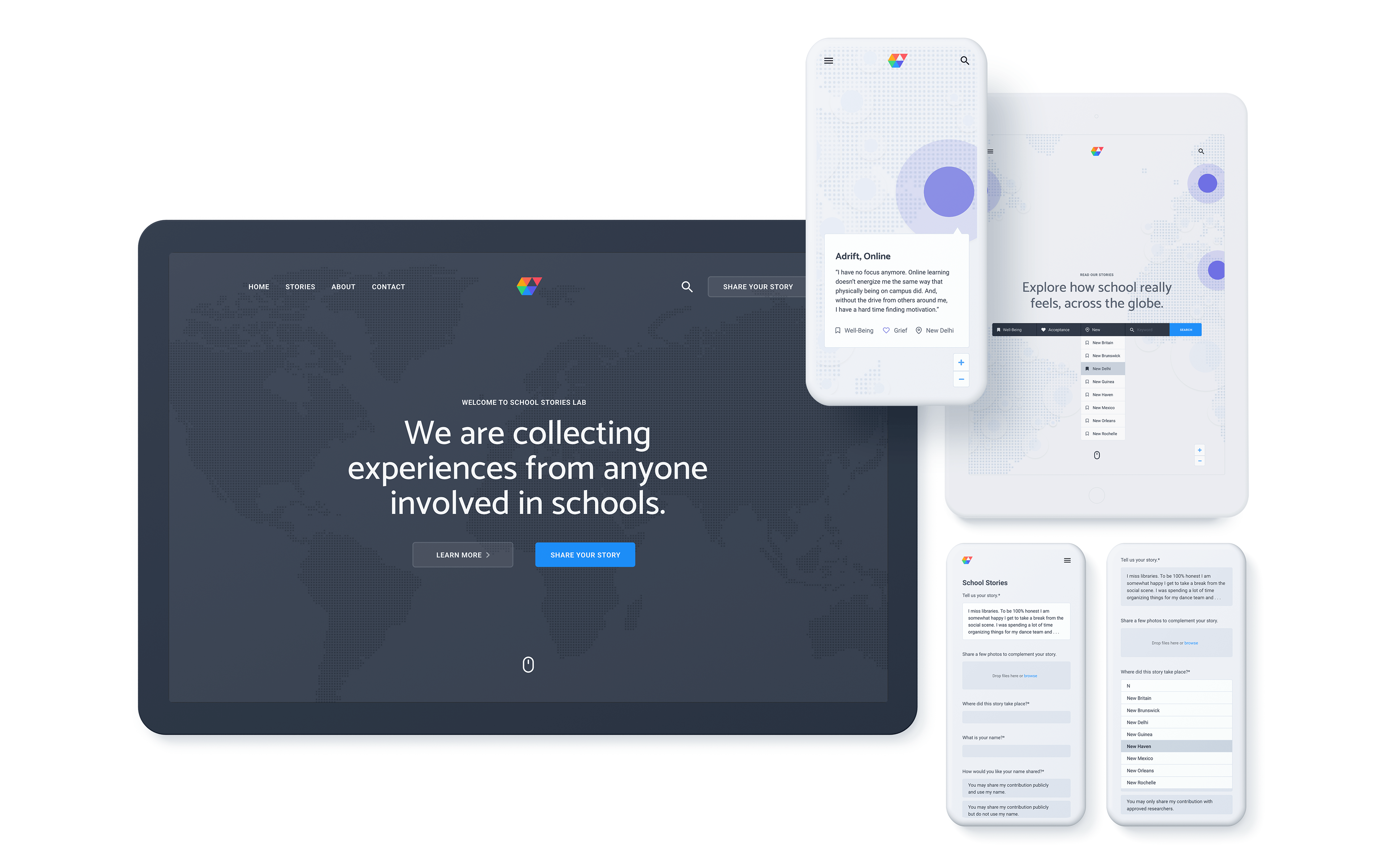 "There's a strong mismatch between the ways people learn outside

schools

 and the ways they only appear to learn in schools." 
Our lab interrogates the effects and the necessity of schooling. We seek to publish honest personal essays about anything that could reasonably fit under the heading "School Stories." School may be nearly universal, but individual experiences can differ immensely, informed by factors including race, socio-economic status, gender, disability status, nationality, sexuality, age, religion. and culture. We especially encourage marginalized individuals to submit, both inside and outside of the United States. 
How might great storytelling capture the challenges of school?
We knew we would design a digital tool, so we focused efforts on how to frame that tool to collect great stories. Researchers to go into the field and had time for high-value product management tasks.

Everyone can be a great storyteller
The team collected stories from a focused subset of students and teachers in a midwest city, with a diverse sample of speakers. When I joined the lab, I excited our research process by rapidly prototyping a digital tool and validated that tool in many user testing rounds. I also facilitated brainstorming sessions with our team and digital media specialists at the library. We learned:
✓
Introverts are overwhelmed and extroverts lose focus when storytelling 
→
use prompts
✓ 
Long prompts are too specific to resonate
→
suggest universal themes
✓ 
Long stories aren't fun to read 
→
aim for short submissions, ~250 words
Designing two happy paths
Users support two happy journeys:
read our (collection of) stories or share your own
. 

The School Stories site needed to compel readers with a large number of text-based stories, so I examined comparative digital experiences that have a story submission form for crowd-sourced stories (
StoryCorps
,
TMI Project
,
Refund My Shit Date
, NYTimes' 
Modern Love
). One page submission forms allows users to edit past answers easily and review all information at once before submitting—a frictionless experience. 
DEFINING THE USER EXPERIENCE
Turning scribbles into prototypes
I kept these themes from the competitive analysis in mind while sketching concepts for the site and story-collection tool. I aimed to design a product that made users happy and was also feasible to develop with my limited HTML & CSS skills in WordPress.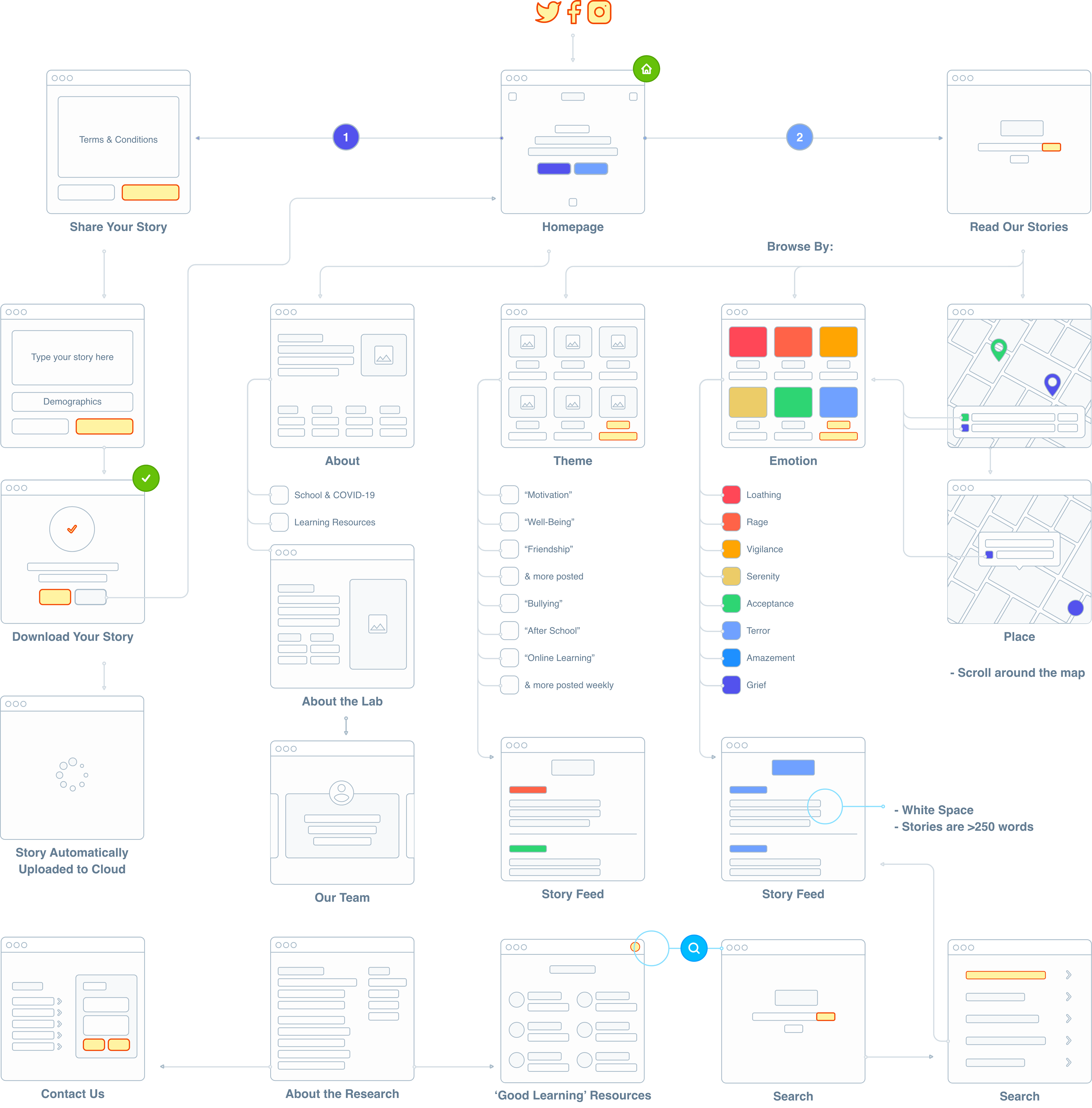 I conducted five user testing sessions over zoom via screen share: 
✓ 
60% (12/20) of users completed the first 3-page submission form
✓ 
100% (50/50) completed the redesigned 1-page submission form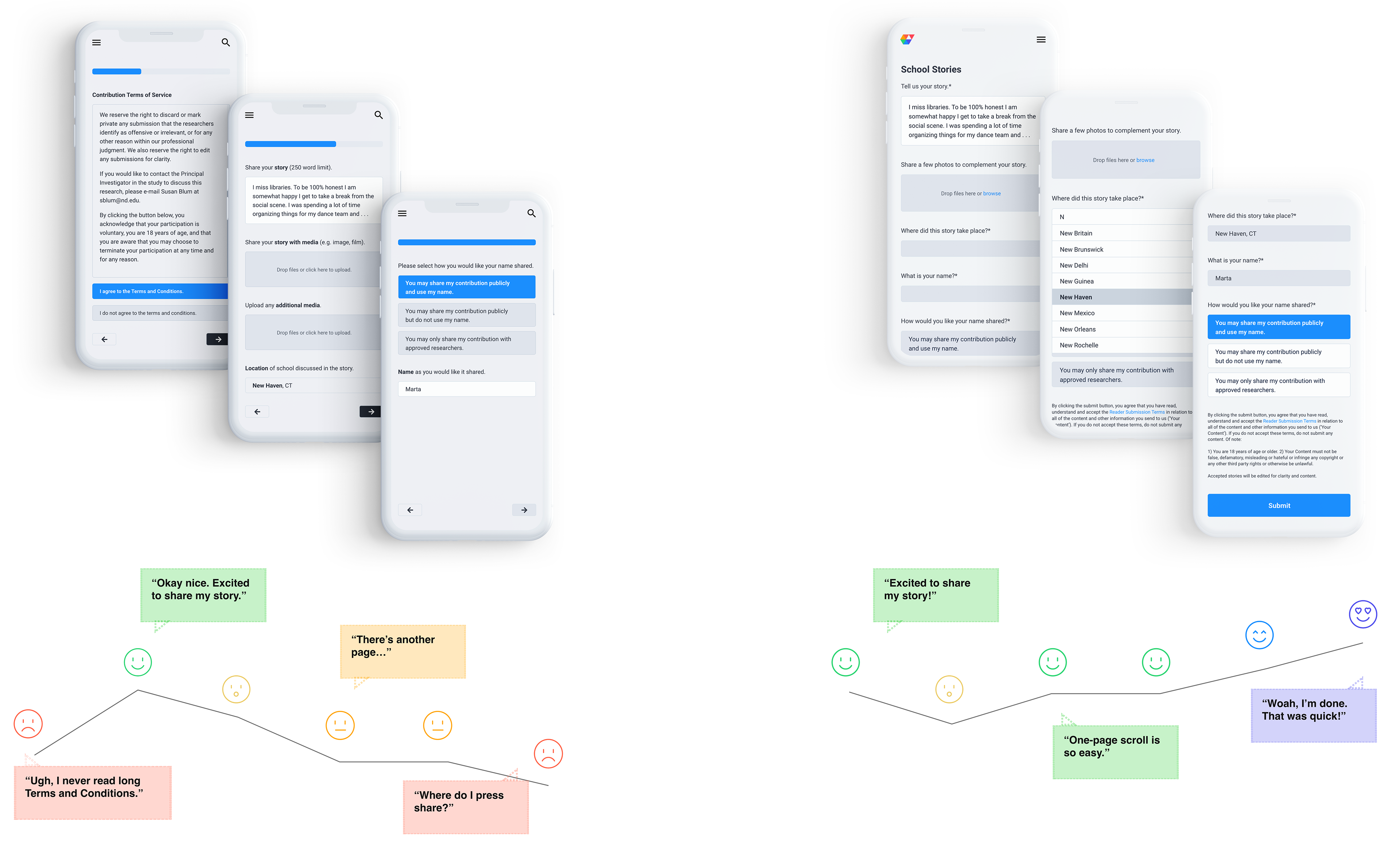 Somewhere over the rainbow
Inspired by Psychologist Robert Plutchik's work on the nature of emotions, we designed a color wheel to code our stories by emotion. This wheel informed our site's visual identity because though there is no one symbol or image that everyone around the world associates with school, everyone can understand how school feels.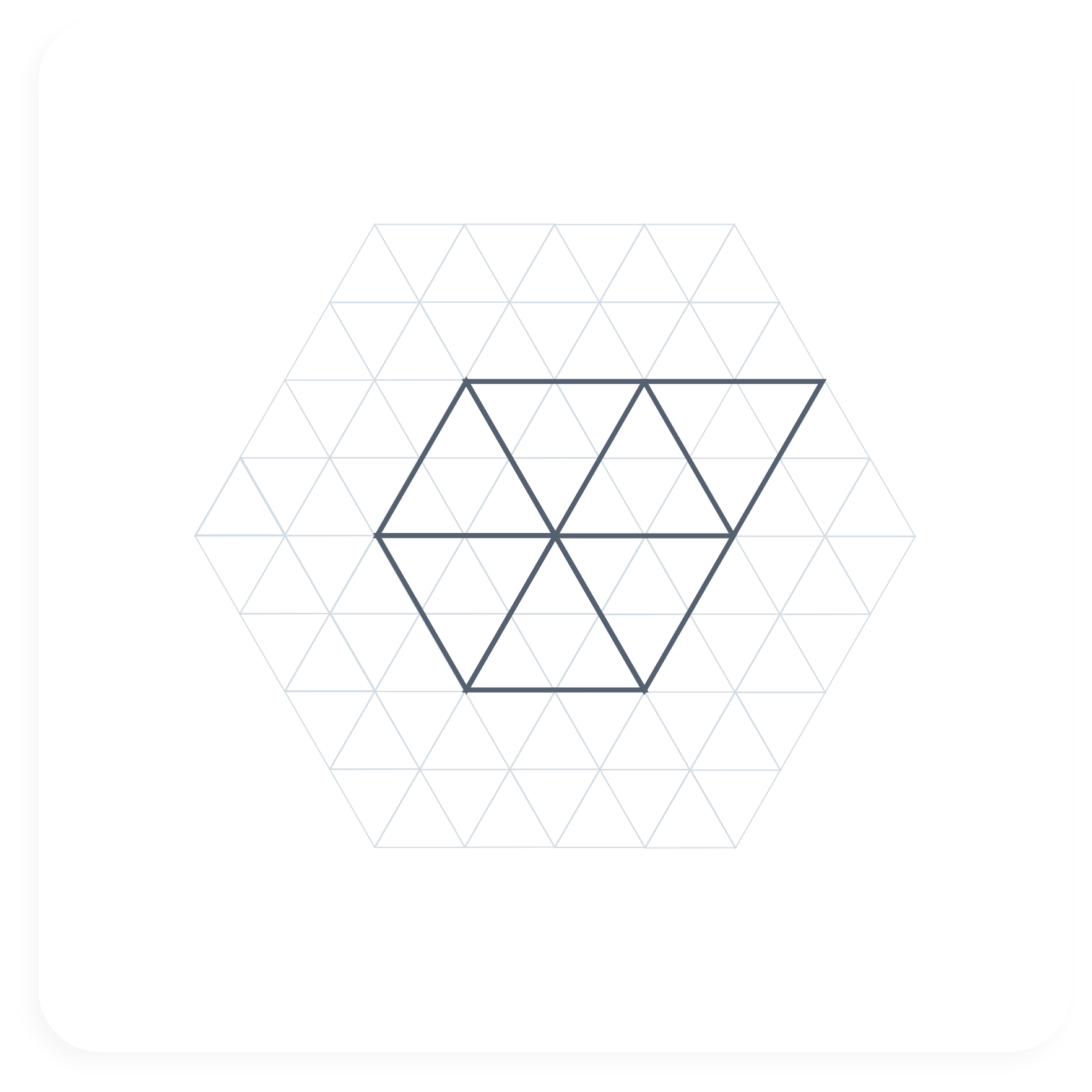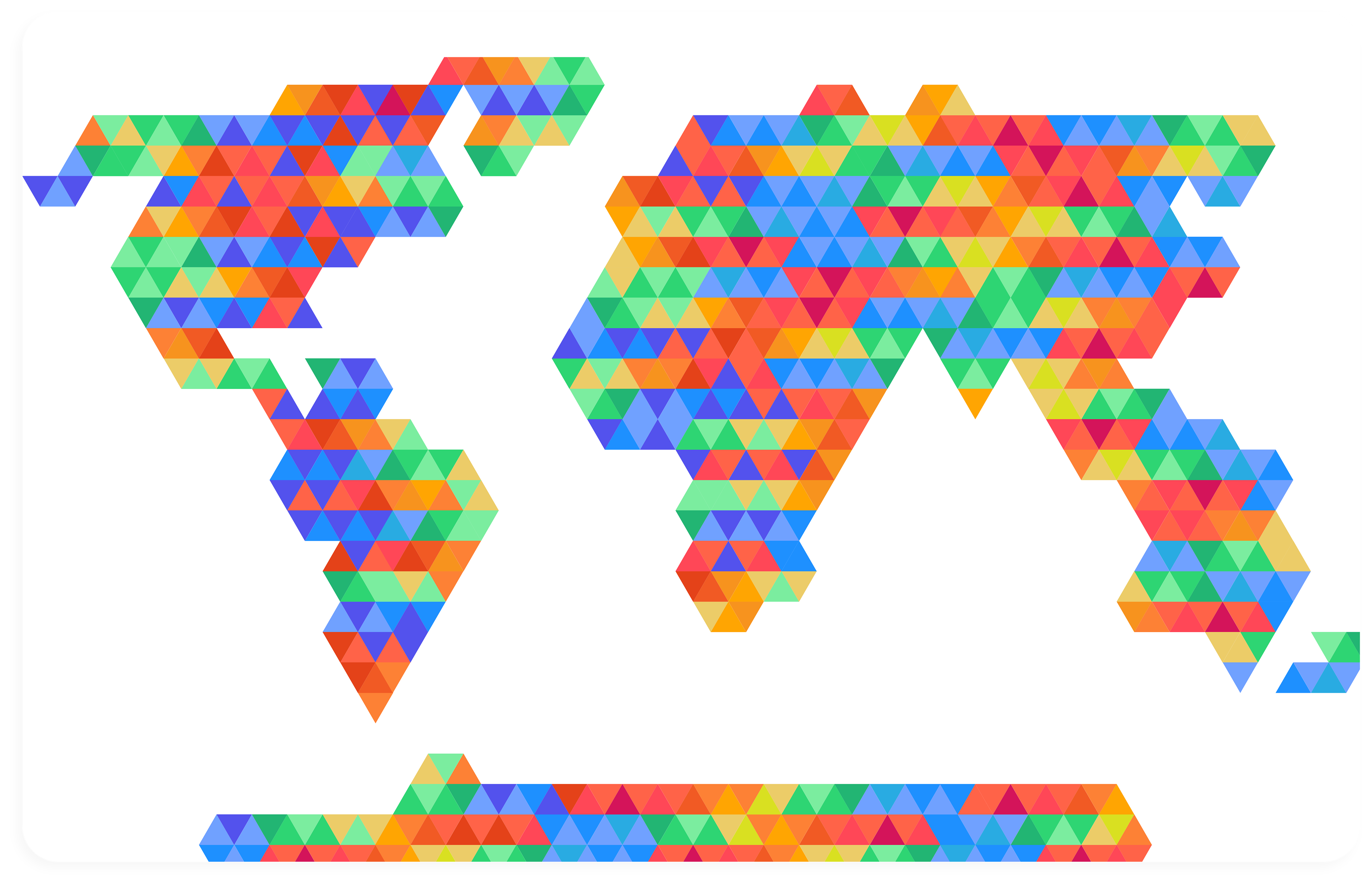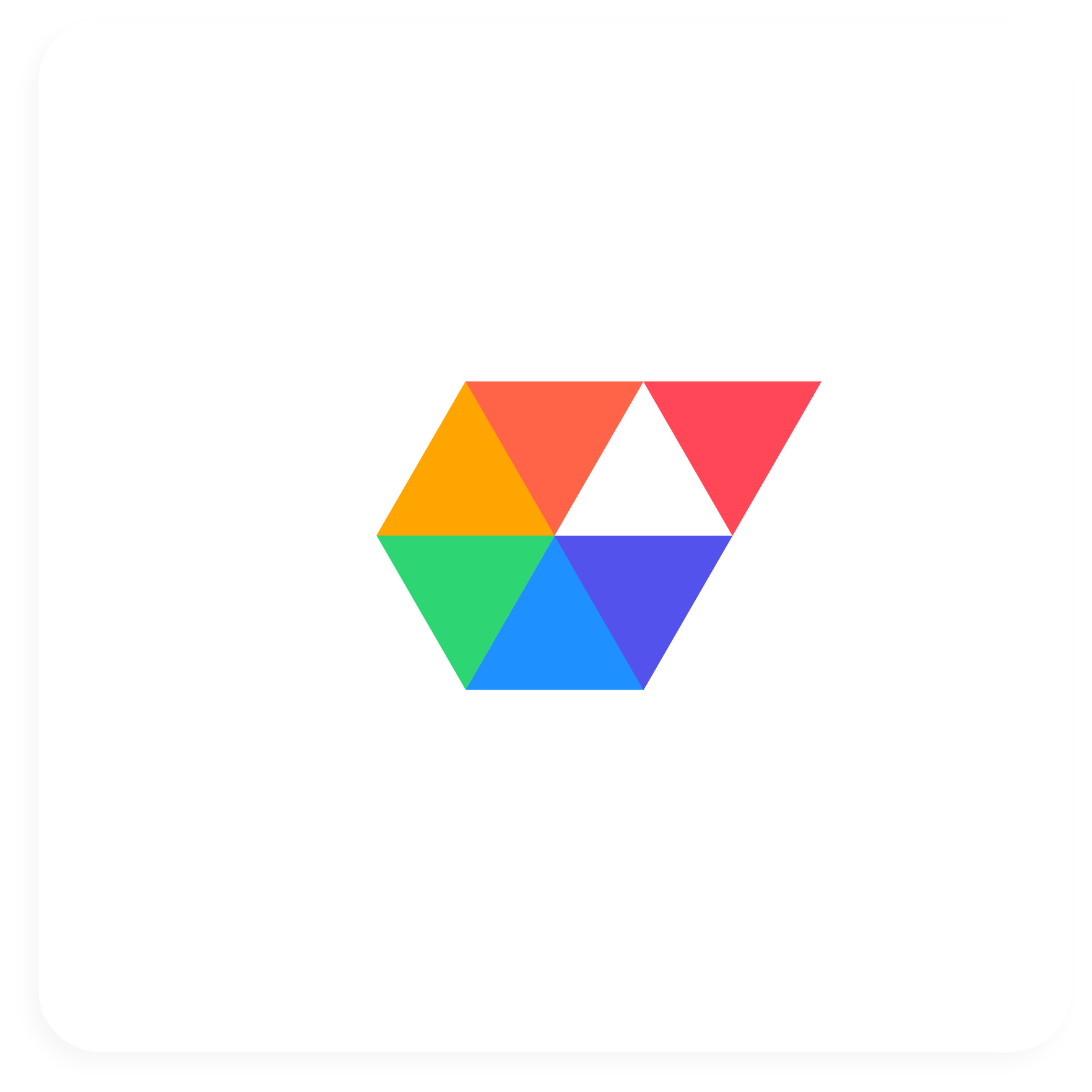 Empowering diverse user journeys
I designed a friendly experience supporting user reading and story-sharing. 
✓ 
Share your story, then read ours
Primary CTA invites voices from around the world to share stories about life in schools.
Mobile-optimized, the submission form is accessible and frictionless.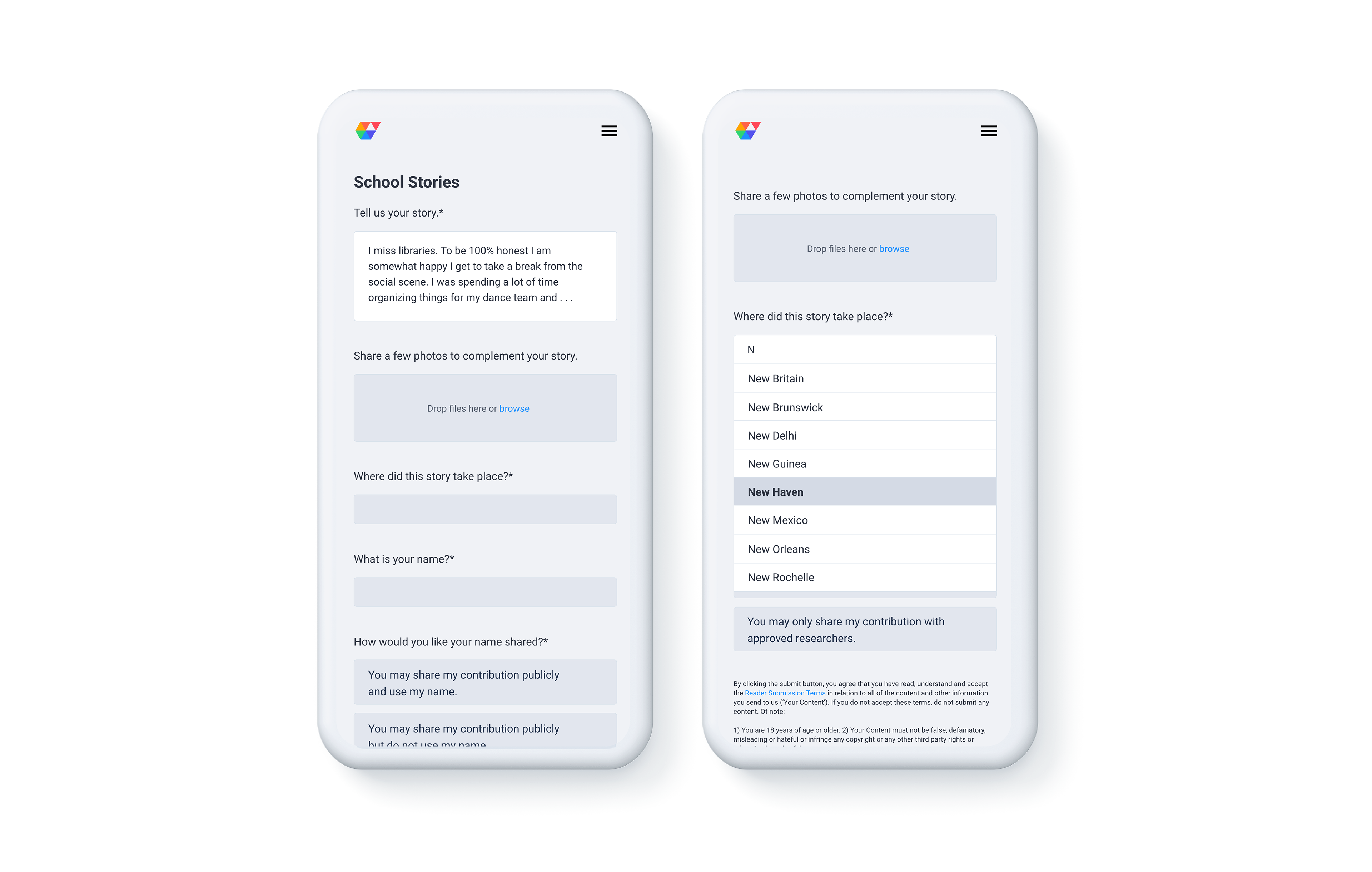 ✓ 
Universal themes, unique experiences
Weekly themes have included: well-being, friendship, cheating, racism, and more.
Colors code each story by emotion.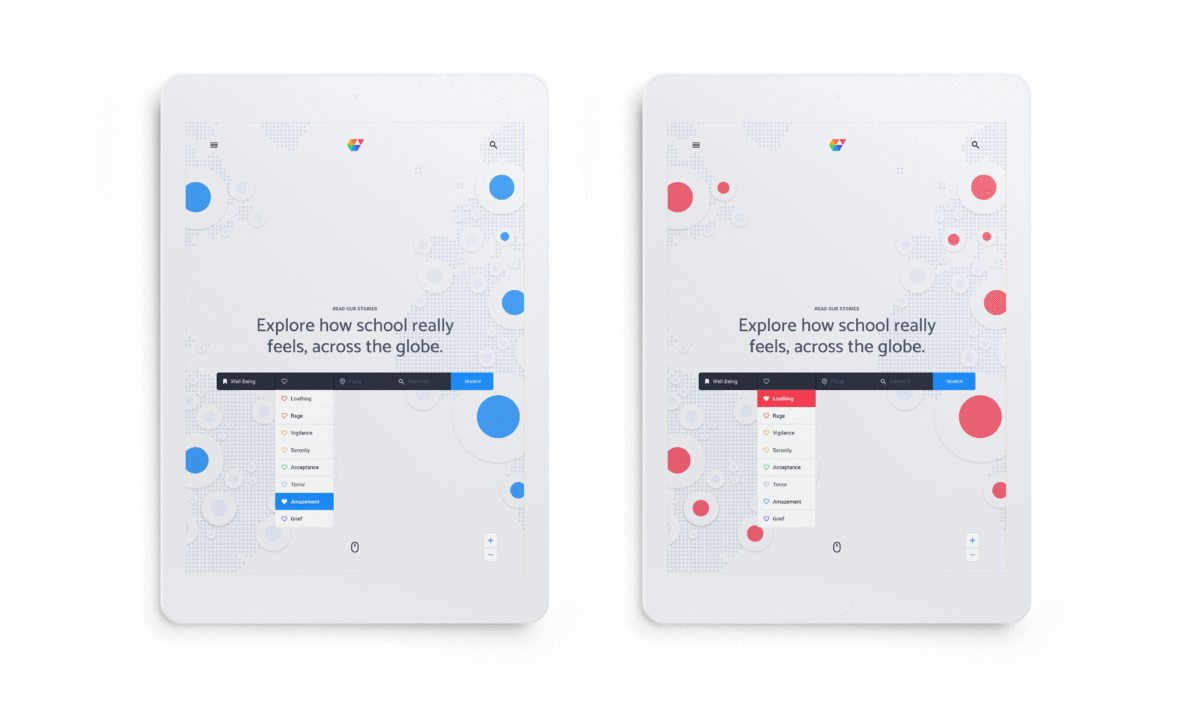 ✓ 
See Shanghai, Sri Lanka, and San Francisco in seconds
Mapping software wasn't in the budget for our lean lab, so
I invented a free workaround using Google Maps
visually mapping stories worldwide.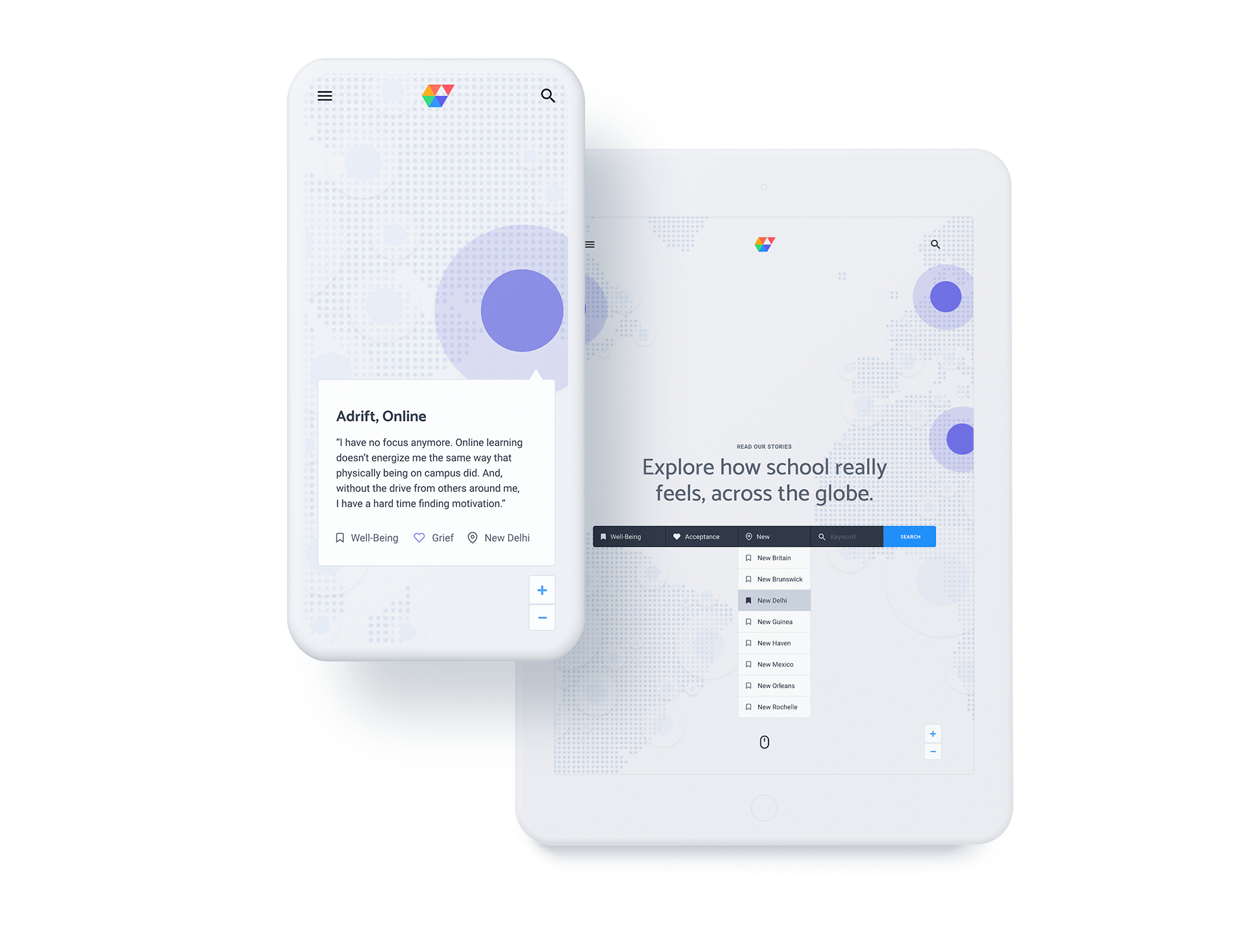 Results & next steps
​​​​​​​
Student researchers shared the 180+ stories on social media (
Instagram
,
Twitter
,
Facebook
) and then posted them to the website. When shared on social media, the stories not only prompted high story-submission conversion rates but also built a validating student community encouraging learning outside of the classroom.
I feel empowered knowing the workflow and system I established has allowed non-designers to maintain the site and grow the project now that I have graduated. I'm excited to follow the lab as it evolves with new content.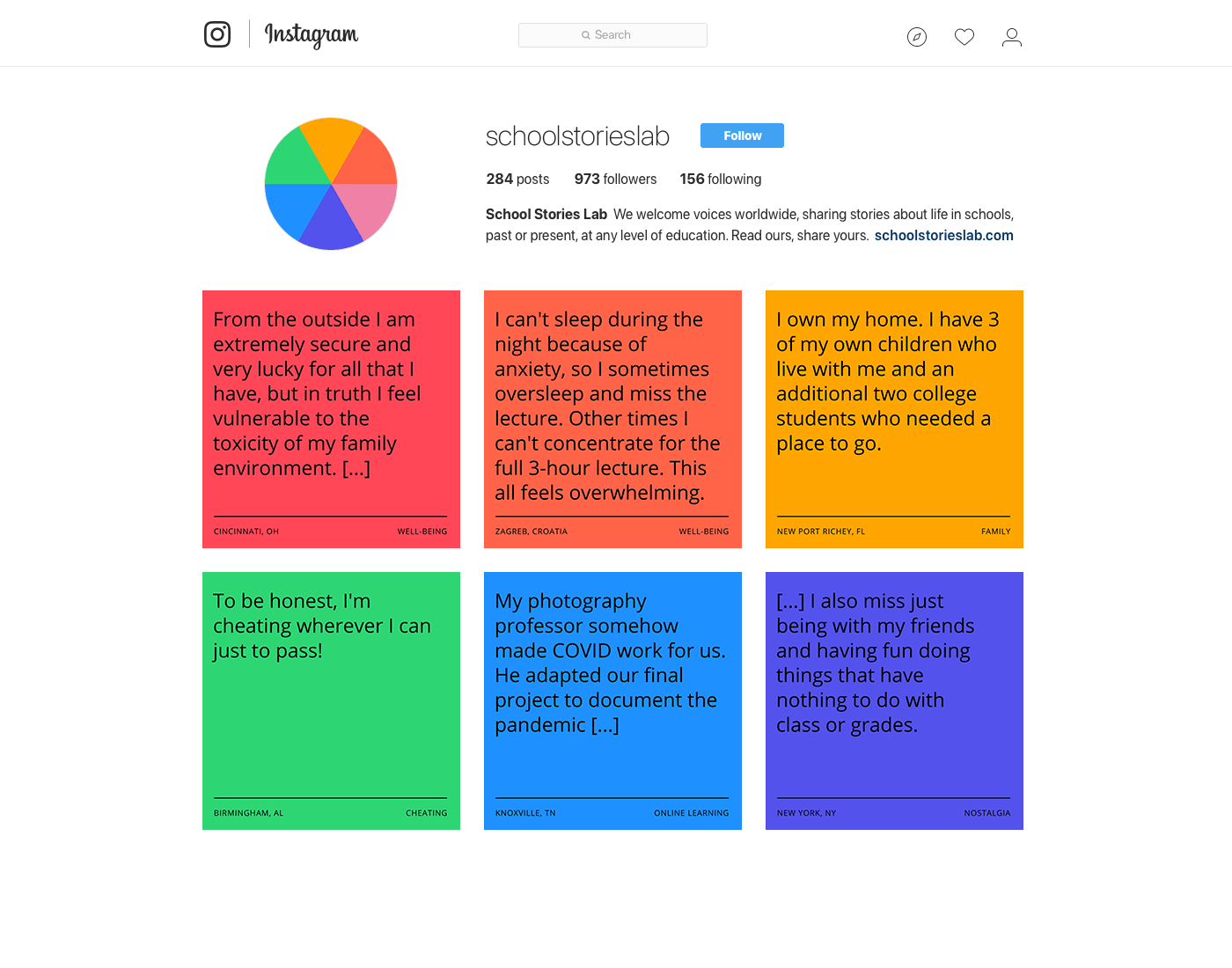 "Claire brought both ethnographic sensibility and design chops to a project I'd been developing with a team for two years. Her technical expertise and visual creativity became the linchpin for this project, which finally launched only because of her contribution. Claire Squire is that perfect combination of inspiration and precision that the very best design embodies!"
I began this case study with one question: what's your (school) story? I'll end it with another: how will you tell it? Let me know on
LinkedIn
.