In June 2019, I was invited by the Department of Sustainability to work with stakeholders at the Potawatomi Zoo, researching how to implement sustainability initiatives best. From then until May 2020, I performed a rigorous UX research and design process, suggesting opportunities to engage visitors of all ages in conservation education.

"We are wild animals, too."
The Potawatomi Zoo is a family attraction in South Bend, IN, that educates 200,000 visitors annually on 500+ animals, their habitats, and sustainability concerns for those habitats in the wild. Stakeholders at the Zoo, namely Zoo Director Josh Sisk, are keen to adopt conservation education initiatives as they approach a five-year accreditation review from their governing body, the Association of Zoos and Aquariums (AZA). I stepped in to research and design a strategy educating empathy for conservation outcomes—so that when visitors leave the zoo, they feel empowered to continue supporting conservation.
How might we promote empathy for conservation outcomes?
Because I was designing a strategy, I focused my efforts on a rigorous research process. Over three months, I performed primary (contextual inquiry, user interviews, expert interviews, user surveys, user observation, card sorts, play dates) and secondary (competitive analysis, literature review, heuristic evaluation) research to understand current sustainability initiatives. I meet monthly with the Zoo Director to update him on my research and design process.​​​​​​​
Who has skin in the game?
​​​​​​​
✓
Regulatory
: Has the power to deny AZA-accreditation from the Potawatomi Zoo if the Zoo does not have a solid plan to promote sustainability in the next five years.
✓
Administration
: Josh Sisk, as the newly appointed Interim Executive Director, supports implementing new sustainability efforts at the Potawatomi Zoo.
✓
Staff
: 
There are full-time and seasonal workers in admissions, concessions, education, maintenance, and zoology from diverse backgrounds. 
✓
Parents
: They value the Zoo as a place of education and entertainment for their children. They are either members or come only on special occasions.
✓
Children
: Children come to the zoo with parents, friends, or school. They like to look at the animals but mostly want to play and explore.
​​​​​​​
I performed a POEMS (people, objects, environments, messages, services) analysis and compared it to how users felt in each space. I observed admission, concession, habitat, and restroom spaces to understand design opportunities. 
"I don't read the signs because the children won't listen. They want to play and explore at their pace."
If you are interested in learning more about my rigorous research process, read my
research report
. Here's what I learned from surveying 100+ stakeholders:
✓
Prior efforts at sustainability initiatives were unsuccessful
because staff didn't feel engaged and a part of the conversation.
✓ 
In keeper talks, many zookeepers feel inadequately prepared and google facts on animals at the last minute because they don't regularly work with that animal. 
✓ 
Habitats'

natural elements engage visitors in empathy-building

because they can picture the animals in the wild. 
✓ 
Many
visitors discard the maps
because the zoo is small enough to not get lost.
✓ 
Visitors and staff understand the zoo as a place of learning but don't feel engaged enough to absorb any material.
✓ 
Parents are the only ones to read zoo signage

because their children are pre-literate. 
"Play can blur the nature v. civilization divide."
If zoos are places of learning, the audience of zoos includes children, play is a child's education, and play connects children to the natural world, then how can we support zoo learning with play and interaction?
Climate change is a big deal, but not for children 
Katie Slivovsky, an exhibit designer at the Chicago Children's Museum, outlined the importance of age-appropriate messaging among four key developmental age groups. She used calculus as a metaphor. Calculus, like sustainability, is a complex subject that requires years of building foundational skills. To learn calculus, start by understanding numbers. Similarly, to learn sustainability, begin by developing empathy for animals. My solution first serves the youngest in the room and supports empathy-building..
My solution first serves the youngest in the room and supports empathy-building
.
Katie supports different journeys for different user groups (0-3, 4-7, 8-11, 12+). The app should minimize user (and development) ecological footprint, engage visitors of all ages, and involve staff in implementation. Also, users support the idea that the app's journey doesn't end when they leave the zoo. It empowers change at home, too.
Distinguish moments of learning with age-specific color-coded icons for the zoo map. What is more, play can exercise creative muscles, cognitive muscles, and physical muscles. It is crucial to engage all muscles when designing play spaces at the zoo.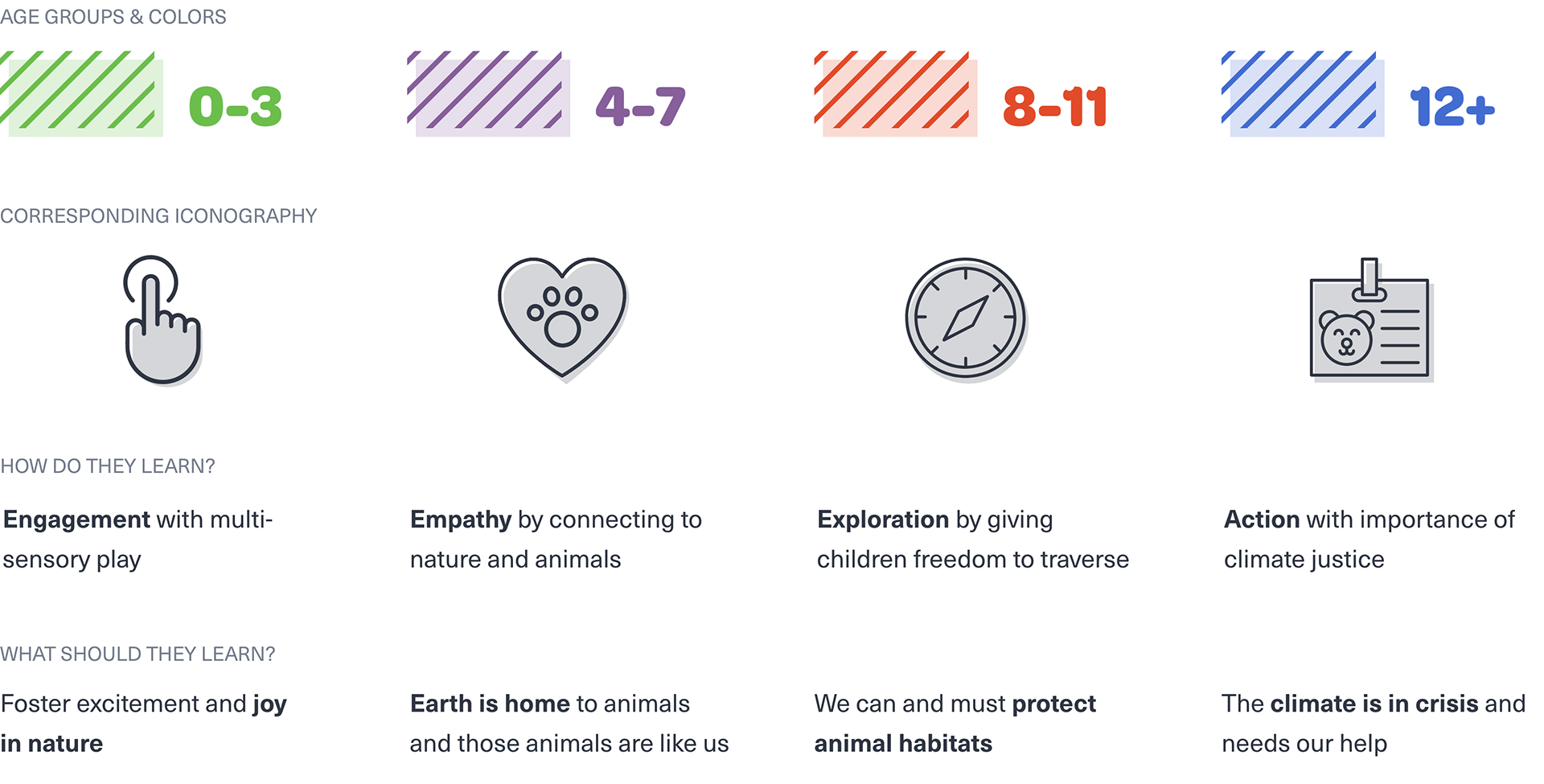 Empowering users of all ages
Implement play spaces scattered across the zoo to engage children as they explore the habitats. Use the app to create an interactive, engaging experience that carries families throughout the zoo, as if on a scavenger hunt. But the journey doesn't end when they leave the zoo. Families are welcome to use the app to access activities and tips to continue sustainability learning at home.
My work was funded by the Institute of Scholarship in the Liberal Arts and awarded as "Best of Show" at the University of Notre Dame B.A. Honors Thesis Exhibition. 
My strategy supports zoo growth because of the visual system's easily implementable concepts (under $500). They will increase visitorship and help the Zoo gain national recognition from the Association of Zoos and Aquariums. 

I feel empowered knowing the system I established has allowed a non-profit institution to serve 200,000+ annual visitors with affordable, quality environmental education. I look forward to future zoo visits and see it evolve with new sustainability initiatives.
"I especially like how Claire stresses
climate change is a huge deal—but not for children
. And of course I love how the solution focuses on providing different messages and activities for different ages and stages."
"I could not be more proud of Claire for her grit, ingenuity, and creativity to create remarkable and inspiring work in a time of great uncertainty. "
"Job well done on an incredibly important and valuable project. I share your desire to teach young people the importance of caring for our home and its creatures."
This project would not have been possible without the support of a village. 

Feedback on the design? Want to talk about designing for impact? Say hi on
LinkedIn
.